Lands End Treasure Island Key Information *
| | |
| --- | --- |
| Address: | 7500 Bayshore Drive Treasure Island, FL 33706 |
| Name: | Lands End At Sunset Beach Condo |
| Views(s): | Beach, Gulf of Mexico, Intracoastal, Pool |
| Buildings/Floors: | 10 Buildings | 4 stories | 180 Units |
| Pets: | 1 Pet under 35 lbs |
| Pool(s): | Heated pool and two spas |
| Fitness: | Tennis Courts |
| Maintenance Fees: | $500 to $600 per month approx. |
| Rental Policy: | 1 Week Minimum |
| Year Built: | 1983-1987 |
* All information is subject to change and should be verified by the buyer prior to entering into any purchase contract.
More Information About Lands End Treasure Island
On the property, you will find a 24-hour gatehouse providing security, a newly updated clubhouse, two lighted tennis courts, volleyball, shuffleboard, BBQ grills, gazebos, fishing deck, heated pool, and two Jacuzzies. Have a paddleboard or bike you need to store? No worries! There is a storage unit at the Clubhouse!
You enter the Mediterranean-style architecture of Land's End via a 24-hour security guardhouse with a gated entry. This luxury resort condo includes 14 acres of lushly landscaped grounds. Peace and quiet are a way of life at Land's End in Treasure Island. The beach is at the very southern end of Treasure Island so there is less foot traffic on the beach than most other spots.
Rental Income Potential
Lands End is one of the few weekly rental condos in the area we could imagine calling "home". The 1-week minimum rental policy is a great feature if you are looking for an investment property, or simply a way to subsidize your carrying costs when you are not there. But at the same time, this is such a well-kept and managed facility that it is also an inviting place to live full-time.
Amenities
Location
Land's End is located on Treasure Island at the end of a peninsula and is surrounded on 3 sides by water; Blind Pass/Intracoastal Waterway to the east, a large pass to the south, and the Gulf of Mexico to the west. This is the southernmost point in Treasure Island, right on Sunset Beach. The address is: 7500 Bayshore Drive, Treasure Island FL 33706.
What's Nearby
Caddy's on the Beach is just right around the corner and has some wonderful drinks and the perfect patio to watch a one-of-a-kind Florida sunset over the Gulf of Mexico. Another one of our favorites is the Sea Dog Brewing Company. They feature a great assortment of local craft beers made at their micro-brewery. It's a lively place with indoor and outdoor dining, a nice bar, pool tables, a souvenir shop, and more. Outside dining is on a large, covered porch that overlooks the Intracoastal.
Salty Rim is just half a mile North and is a popular place to dine, as well as Sea Hags. If you go just a little further North, you will find a great local place called Willy's, which has the best cheeseburger in town.
If you are looking for a little adventure, you can rent a boat or jet ski at Blind Pass Boat and Jet Ski rental, just off of Blind Pass in St. Petersburg.
Pet-Friendly
This is a pet-friendly community allowing one pet under 35 lbs.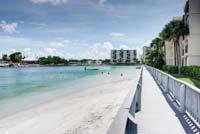 Right next door, on the Intracoastal side, there is a beautiful waterfront park that is dog-friendly. It has a protected beach area where you will often see dogs frolicking on the shoreline. Even if you don't own a dog, it's a fun place to watch the dogs frolic and enjoy the water views.
Lifestyle
If you were to live here, you would truly feel like you are on a permanent "Staycation." Relaxing lifestyle away from the hustle and bustle.
Why People Live or Invest in Lands End
Surrounded by lush beautiful landscaping, and water all around you, you do not even need to leave the Land's End Community. It truly is its own paradise. The 1-week minimum rental policy also makes this a great option as an investment property or way to subsidize your carrying costs.
Interested in Lands End or another Treasure Island Fl condo?
We are here to help. Give us a call at 727-619-2799 or use our handy
contact form
.