St Petersburg Homes for Sale
Popular Areas | Map | Fun Things to Do | Contact An Area Expert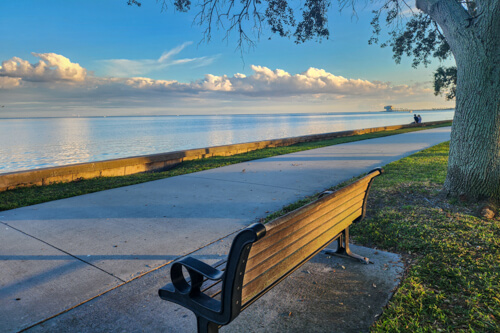 Homes for sale in St Petersburg, FL offer quick access to the restaurants, entertainment, and cultural activities of downtown St Pete. They are also close to the white sands of St. Pete and Treasure Island beaches.
Home prices in St Pete vary drastically and range from the $200,000's to the millions. Use the price links below to search the St Petersburg homes for sale that match your budget and lifestyle.
Interested in a home in St Petersburg, Florida?
Save time and give us a call at
727-619-2799

or use our handy
contact form
.
St Petersburg Homes For Sale
December 5, 2023
St Petersburg Homes For Sale by Price
Other Popular St Pete Communities
Popular St Petersburg Areas
Single-family homes for sale in St Petersburg Fl include a wide variety of styles, sizes, architectures, and price ranges. Below are some of the most popular areas in Saint Petersburg, followed by some fun things to do in the area. Some of our experienced local real estate agents specialize in St Petersburg, so please give us a call at (727) 619-2799 for help or information.
Meadowlawn is a popular neighborhood in the northern part of St Petersburg. It is conveniently located near I-275, giving you easy access to Tampa and other parts of Pinellas County. Most of the homes are 2 and 3 bedroom ranch layouts with about 1,000 to 2,000 sq ft of living area. See the Meadowlawn homes.
Riviera Bay is a waterfront community also in the northern section of St Pete. It is just west of Weedon Island. It actually fronts a small bay called Rivera Bay that provides direct access to Tampa Bay. See the Riviera Bay homes.
Kenneth City is located in central St Petersburg about two miles north of the Tyrone Mall shopping area. See the Kenneth City homes.
This is another centrally located community between Kenneth City and Allendale. See the Lealman homes.
This quaint community features charming turn-of-the-century homes and tree-lined streets. It is just north of the Historic Old Northeast with easy access to Downtown St Petersburg. See the Allendale homes.
Shore Acres is a large single-family home waterfront community. It offers water access and homes with beautiful waterfront views. It also offers residents a wide range of outdoor activities in nearby parks and recreational activities. See the Shore Acres homes.
This charming neighborhood is located in the western-central area of Pinellas County near Tyrone Mall. It has an abundance of trees and some lovely parks to explore. It also offers easy access to the Fred Marquis Pinellas Trail which is a 30+ mile "linear park" that runs through Pinellas County. See the Jungle Terrace homes.
The Tyrone area is best known for the Tyrone Mall shopping district. But it is also a great central location "close to everything." Surrounded by lots of great restaurants, and easy access to Madeira Beach to the west and downtown St Petersburg to the southeast. See the Tyrone area homes.
Kenwood offers a great mixture of craftsmen and historic homes. Enjoy walks to beautiful local parks, cozy little cafes, and local shops. The neighborhood is just due west of Downtown St Pete. See the Historic Kenwood homes.
This mature picturesque neighborhood offers a variety of home styles and a quaint sense of community near the downtown area. Enjoy wooded tree-lined settings and homes crafted in the early 20th Century. See the Woodlawn homes.
Snell Isle is another large waterfront community north of downtown. You enter Snell Isle from the Old Northeast on Snell Isle Bridge, just about 10 minutes north of downtown. You will instantly feel like you are in a very special Floridian neighborhood. This is one of St Pete's larger neighborhoods with about 1,000 single-family homes. See the Snell Isle homes.
The Historic Old Northeast is one of our best-known historic areas. It is located just north of downtown. Enjoy tree-shrouded brick streets, historic homes, and easy access to the parks, restaurants, and the great culture of downtown St Petersburg. See the Historic Old Northeast homes.
If you live downtown you are at the epicenter of culture and dining in Pinellas County. There are so many restaurants, bars, local shops, and cultural events to choose from. If you want to live downtown, you might also want to consider a Downtown Condo. See the Downtown St Pete homes.
Lakewood Estates is conveniently located near the Boyd Hill Nature Park and St. Petersburg Golf & Country Club. The homes on the northeast side of the community face the wooded nature preserve and Lake Maggiore just beyond that. 5th Avenue just south. See the Lakewood Estates homes.
Coquina Key is a small island connected to the St Pete mainland by two bridges. The real estate on Coquina Key includes both single-family homes as well as condominiums. See the Coquina Key homes.
The Maximo is near the southern tip of Pinellas County. It is located on the shores of Boca Ciega Bay which provides access to the Intracoastal Waterway. You can also access the Gulf of Mexico and Tampa Bay by heading south through the passes. Talk about a boater's paradise! See the Maximo homes.
Pinellas Point is the southernmost of all the St Petersburg and Pinellas County neighborhoods. The southern and eastern borders of Pinellas Point are on the shores of Tampa Bay. The Gulf of Mexico and Tampa Bay are a stone's throw away by boat. St Pete Beach and Pass-A-Grille Beach are also just a short car ride west. See the Pinellas Point homes.
Fun Things To Do In St Petersburg, Florida
There are so many fun things to do in St Petersburg, Florida, we don't know where to start! Below are small samples of some of our favorite things to do or see.
Visit Downtown St Petersburg
Downtown St Petersburg is a fun and vibrant place to spend a day or evening. There is an amazing selection of great local restaurants along Beach Drive. Stroll along the waterfront on Bayshore Drive. Visit the St Petersburg Saturday Morning Market or one of many art galleries or art museums. We especially love the Salvador Dali Museum and the Chihuly Collection. Vinoy Park is also a great place to exercise or relax while surrounded by beautiful scenery. Check out some other ideas on our Downtown St Petersburg Condos page.
Segway Tour
This is also found in downtown St Petersburg, but since it was so much fun, it deserves a special mention. We started our tour in the southern part of downtown St Petersburg. With a quick tutorial, it only took about 10 minutes for everyone to get comfortable on their Segway, and then off we went. We headed east with the tour to the shores of Tampa Bay. We then traveled up the coast with great water view walkways adjacent to Bayshore Drive. Our guide was a storehouse of knowledge and shared some fascinating facts and stories about St Pete and its history.
Weedon Island Preserve
Weedon Island is a beautiful nature area located on Tampa Bay in the northeast quadrant of St Petersburg. There are boardwalks and trails where you can get away from it all and just enjoy the sights and sounds of nature. There is also an educational center called the Weedon Island Preserve Cultural and Natural History Center. Take some time out to reconnect with nature and the environment. The center offers planned hikes, workshops, exhibits, and other programs for all ages. Learn more at the Weedon Island Website.
Sunken Gardens
This beautiful botanical garden is 4 acres of lush landscape right off the well-known 4th Street of St. Pete. Sunken Gardens displays plants from around the world and with some dating back 100 years! You can explore over 50,000 plants with a peaceful stroll along winding paths lined with waterfalls and koi ponds. You can even find a tortoise habitat, a butterfly courtyard, and a flamingo encounter.
Skyway Fishing Pier
After the Sunshine Bridge was built - the remaining bridge was turned into the world's largest fishing pier. The pier is open 24hours a day and is a favorite spot for anglers. You can park your car right on the bridge & throw in your line to catch snook, tarpon, grouper, red snapper & many more. There are even shops on each side of the pier to refill your bait, grab a snack, or pick up some fishing supplies.
Boyd Hill Nature Trail
This 245-acre nature preserve along Lake Maggiore is a wonderful place to explore the great outdoors. Take a hike, tram, or bike tour to explore 5 unique habitats that St.Pete has to offer. It is a great place to bird-watch and even has an aviary with live birds of prey. You can find picnic areas with grills and tables, kayak and canoe rentals, a gift shop, and an educational center.
Imagine Museum
This museum displays unbelievable glass art and its progression through the ages. You can explore these beautiful glass pieces on your own or with a guided educational tour. Visit their Imagined Realities virtual studio for a unique educational experience and stop at their gift shop to take home a piece of glass art for yourself.
Great Explorations
This children's museum is a hands-on educational experience your kids will love. Great Explorations is filled with rooms and activities for children to explore their senses and learn in a fun environment.
Mazzaro's Italian Market
Visit this bustling Italian market and expand your taste buds. Located at 2909 22nd Ave N in St. Pete. Mazzaro's Market offers mouth-watering Italian cuisine from fresh pasta, produce, baked goods, and more. Stop by and stay awhile for a wine tasting or grab a delicious cup of freshly brewed coffee on the go.
TOP OF PAGE Δ | Map | Fun Things to Do | Contact An Area Expert
Interested in a home in St Petersburg Florida?
Save time and give us a call at
727-619-2799

or use our handy
contact form below.