Number of Sales
The number of condo sales in Downtown St Petersburg has been higher than historical sales for the past four years. This increase is highly influenced by sales, and resales, in the new ONE condominium. The ONE accounted for almost 100 sales in 2018, and almost 200 in 2019, but only 33 in 2020.
There were 362 condo sales in Downtown St Petersburg in 2020 which is higher than the historical average.

Price Trends
The price trend is also up with the average condo sale price of almost $700,000 in 2020. This is about twice the $300,000 average in 2011. This represents approximately a 13% annualized increase for downtown condo prices. The "spike" in 2019 was due to a large number of sales of new high-priced units in The ONE.

Days On Market
Downtown St Pete condos are selling quickly. The number of days on market is relatively low at just 75 days from the time of listing a condo until the unit is under contract. This is even lower than our Pinellas beach areas which are at about 100 days on market.

Sale Price vs. List Price
With continued high demand, the List Price to Sale Price ratio has remained high. The average sale price in 2020 was about 97% of the List Price.

Price By Number of Bedrooms
The most popular condo configuration remains a two bedroom two bath layout. The two-bedroom condos represented half of all the condo sales in 2020. The rest of the sales were split about evenly between one-bedroom and three-bedroom layouts. There were only seven sales of studio layouts, and just one four-bedroom unit sold.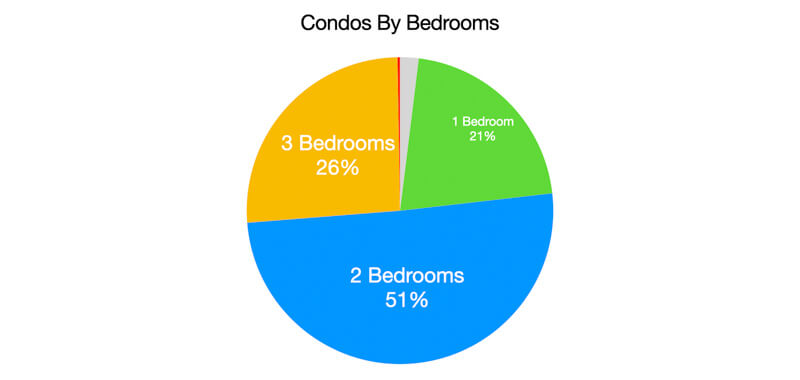 Summary
All the metrics and all of our experience with downtown buyers and sellers suggest we have a continued strong real estate market in Downtown St Petersburg. There is continued high buyer demand for the downtown area, and properties are selling quickly.
Serious buyers should work with an experienced real estate professional to find the right property at a fair price. If you are getting a loan, ask your agent to set you up with a good local lender. We have found that out of area lenders just do not know our local market conditions and the intricacies of financing a condo or other waterfront property. A good lender can help you determine your buying power. Also, a pre-qualification letter is almost always required for a contract to be accepted. If you are paying cash, proof of funds will be required.
While you certainly want to negotiate a fair price for your new condo, with continued high demand, keep in mind that sellers are not taking lowball offers. Making an unrealistically low offer can offend sellers, making further negotiations more difficult than they need to be.
We hope that you found this information helpful. If you have any questions, or if we can help in any way, please give us a call at (727) 619-2799 or use the contact form below.