Downtown St Pete Condos for Sale
EXPLORE: Overview & Listings | Featured Condos | Things to Do | Contact An Expert | FAQs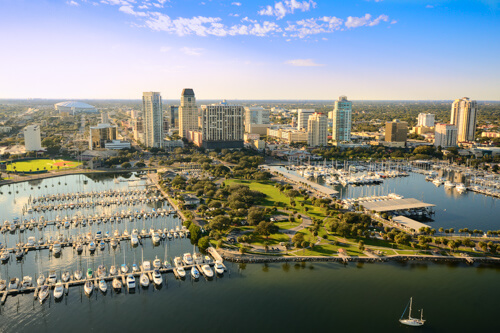 Living in Downtown St Pete gives prime access to all the culture, arts, and activities that this bustling city has to offer. Walk out of your condo and you're surrounded by great restaurants, shopping, and endless entertainment. Choose between a variety of wonderful condo communities and find a unit with spectacular water views of Tampa Bay or majestic city views.
Condos for sale in downtown St Petersburg are popular for a number of reasons. You are just steps away from the shimmering waters of beautiful Tampa Bay. The popular St Petersburg Pier has been totally renovated and offers walking paths, artwork, dining, fishing, and lots of fun and entertainment for all.
Downtown St Pete is also the cultural center of Pinellas County offering numerous museums, theaters, and artwork for you to enjoy.
Learn More Below...
Interested in a condo in downtown St Petersburg Florida?
Save time and give us a call at
727-619-2799
or use our handy
contact form
.
St Pete Downtown Condos
May 17, 2022
$1,424,998
Med. List Price
St Pete Downtown Condos by Price
Below is a summary of the featured condos in downtown St Pete Fl. Click on the condo name or the Read More links to see details about the condo community and all the latest units for sale.
400 Beach Drive Condo | $1 Million to $3 Million+ | Views of Tampa Bay | Luxury
These luxury condos overlook North Straub Park, North Yacht Basin, and the shimmering waters of Tampa Bay. 400 Beach Drive was built in 2007 by the prestigious builders of Opus South as the sister building to Parkshore Plaza. These 2, 3, and 4 bedroom condos range in size from a little over 2,000 sq ft to over 4,000 sq ft. Read More...
Bayfront Tower Condo | $400,000s to $1 Million + | Views of Tampa Bay | Rooftop Pool
Bayfront Tower is home to 255 residential condos and 11 commercial units on the corner of One Beach Drive and Central Ave. The residences consist of 1,2 or 3 bedroom condo units, ranging from about 1,100sq ft to just over 3,600sq ft. The condos on the east side of the building have magnificent views of Tampa Bay and the west condos enjoy city skylines and beautiful sunsets. Read More...
One St Petersburg | $700,000s to $4+ Million | Luxury High Rise | Contemporary
This modern complex covers one city block and rises 41 stories in the center of downtown St Petersburg. The 253 luxury residences consist of 2 and 3 bedroom units ranging from 1,408 sq ft to 4,062 sq ft. Most units in this towering complex offer breathtaking views of the shimmering waters of Tampa Bay or the magnificent downtown cityscape. Read More...
Ovation Condo | $2 to $6 Million + | Views of Tampa Bay | Only 2 Units Per Floor
This downtown luxury condominium was completed in 2009 by the well-known JMC properties. It is home to 44 modern residences and spans 28 stories tall. Built with only two units per floor, these lux condos offer spacious 3 bedroom 3 1/2 bath layouts with over 3,000 sq ft of living area. It is located at the corner of Beach Drive and 2nd Ave N in the heart of downtown St Pete, where residents enjoy panoramic waterfront views of Tampa Bay. Read More...
Parkshore Plaza Condo | $700,000s to $3 Million + | Concierge | Great Amenities
Parkshore Plaza is home to 117 luxury residences with 96 tower units and 21 townhouse city-homes. Layouts range from 2 bedroom 2 1/2 bath units with about 1,400 sq ft of living area to expansive 4 bedroom 3 1/2 bath options with around 5,000 sq ft of living area. Residents have access to impressive amenities, including concierge services and a library. Read More...

Reflection | $700,000s to $1 Million + | Great Amenities | New Construction
New luxury condos in downtown St Petersburg. Open floor-plans and modern appliances and conveniences. Enjoy panoramic views from the unique rooftop oasis where you will find a heated rooftop pool, modern fitness center, outdoor kitchen, and more. Read More...
Sage The Condo | $300,000s to $700,000s | Affordable | Pet-Friendly
This pet-friendly boutique condo community consists of 112 units with 1 and 2 bedroom units ranging from 869 sq ft to about 1400 sq ft. The Sage is a rare complex - allowing residence to bring along two pets with no weight limits. Amenities at the Sage include a heated pool, large clubroom with full kitchen and dining area, lounge with couches, chairs, and 60-inch flat-screen TV, and an outdoor grilling area. Read More...
Saltaire | $2 Million to $5+ Million | Panoramic Views | Pre-Construction
The up-and-coming Saltaire will be a stunning new luxury condo complex located along the Downtown St. Pete bayfront. This modern tower will have 192 private residences with 2, 3, and 4 bedroom units ranging from 1,663 sq ft to the grand penthouse condos at 6,182 sq ft. Saltaire will provide residences with top-of-line amenities, including concierge services and an impressive 7th-floor amenities deck with a rooftop pool. Read More...
The Salvador | $400,000s to $1 Million + | Green Certified | Window "Walls" Views
The Salvador lays claim to being the first upscale, green-certified condominium tower in downtown St. Petersburg. The Salvador's 74 residences "feature artful and innovative living inspired by the art of Salvador Dali". There are 1, 2, and 3 bedroom units, ranging from 964 sq ft to 2,795 sq ft. Each unit is complete with 8' high window walls with glass doors leading to private balconies to take in the cityscape views. Read More...
Signature Place Condo | $400,000s to $2+ Million | Water Views | Nice Amenities
With 36 floors and over 275 condo units, Signature Place is one of the largest condo communities in downtown St Pete. This impressive tower was built in 2009 and offers 1, 2, and 3 bedroom units from 859 to just over 4,000 sq ft. Located just a block from the water - residences enjoy panoramic views of Tampa Bay and the city skyline. Amenities include a swimming pool and hot tub, fitness center, and two common rooms. Read More...

Vinoy Place Condo | $1 to $2 Million+ | Water & City Views | Wrap-Around Balconies
Vinoy Place luxury condominiums consist of expansive 2, 3, and 4 bedroom condos mostly range in size from about 2,600 sq ft to 3,000 sq ft with penthouses at an impressive 5,000 sq ft. Vinoy Place is located on Fifth Avenue NE adjacent to the beautiful Vinoy Park. These condos offer large wrap-around balconies providing great outdoor living space where you can also enjoy breathtaking water and park views. The 102 condo residences are housed in 4 towers and 10 townhomes. Read More...
About the Downtown St Pete Area
EXPLORE: Overview & Listings | Featured Condos | Things to Do | Contact An Expert | FAQs
Downtown St Pete Location and Things to Do
Living in downtown St Pete offers quick access to a wide array of cultural, dining, and outdoor activities. There are scenic waterfront parks like Vinoy Park, a plethora of fine restaurants, museums, art galleries, entertainment spots, and more.
Some recommended downtown art displays are the Dali Museum, the Chihuly Collection, and the Museum of Fine Arts. You'll find endless delicious restaurant choices including, Hawkers Asian Street Fare, 400 Beach Seafood and Tap House, Stillwaters Tavern, and Moon Under Water.
Downtown St Pete Parks & Recreation
Vinoy Park is a popular waterfront park in the heart of downtown St Pete surrounded by great shops and restaurants. It is located at the end of 5th Ave NE by Bay Shore Dr. NE. The park spans 11.6 acres along the shores of Tampa Bay from 5th Ave NE north to about 16th Ave along North Shore Dr. NE. There are trails along the shoreline where you can take a stroll or jog while enjoying the water views. Vinoy Park is also host to many wonderful events including the annual Ribfest and the Tampa Bay Blues Festival. Learn more at the St Petersburg Parks and Recreation Website.
The City Lifestyle
What's Nearby?
Downtown St Petersburg is just 12 miles from St Pete Beach, 9 miles from the Skyway Bridge and Fishing Pier, 14 miles from Fort De Soto Park, and 21 miles from Tampa International Airport.
Interested in a condo in St Petersburg Florida?
We are here to help. Give us a call at 727-619-2799
or use our handy contact form below.
EXPLORE: Overview & Listings | Featured Condos | Things to Do | Contact An Expert | FAQs
Frequently Asked Questions FAQs
Please feel free to reach out to our Downtown St Pete Specialist to verify current information and elaborate on questions. We are here to help!
Q. Which Condos are Pet-Friendly?
Most St. Pete condos allow pets - but each condo building will have Associations that set specific rules. The ONE St.Pete, Signature Place, and the Vinoy Place Residences are a few condo communities that allow large dogs. While others might set smaller weight restrictions and limit how many pets are in one household.
Q. Which Condos can I do short-term rentals/ Air BnB?
Almost all Downtown St Pete Condos set restrictions on short-term rentals and do not allow rentals for 30 days or less. Most have a 3-6month rental minimum set by the condo Association. Signature Place Condo is one of the only buildings that allow 30 days rental minimums but limits to a maximum of 3 times per year.
Q. What Condos offer Water Views?
If you are looking for a Tampa Bay water view - the following buildings are some that can offer stunning direct water views; Saltaire, Signature Place, Bayfront Towers, The One, Ovation, Florencia, Cloister of Beach Drive, Parkshore Plaza, Bliss, 400 Beach, Vinoy Place. Other buildings are a bit further away from the waterfront - but in the right positions condo unit can offer great water views; 400 Central, The Sage, The Salvador, Madison at St Pete.
Q. Which Condos offer pools and many amenities?
Most of our downtown condos come with a fitness center and community space - but the buildings that have the most impressive and extensive list of amenities are the following; The ONE, Vinoy Place Residences, Ovation, Florencia, Bayfront Towers, Signature Place, 400 Central, Bliss.
Q. Are there any 55+ communities?
Yes - The following condo communities are exclusive to those that are 55 or older in age. Flori De Leon Apt Co-Op, Harbour Hill Condo, Lake Palms Apts Co-Op, Shore Crest Condos, Suncoast Towers Apt Co-Op, Whispering Waters.
Q. What are Co-Ops?
Downtown St Pete has a few Co-Op communities that differ a bit from a traditional condo building. As an owner - you will own a share of the community rather than be issued a deed to the property. These building units typically sell with cash or hard money loan. The monthly Association and maintenance fees are all-inclusive - and traditionally cover all your utilities including electricity, cable, and internet. The few Co-Op communities that are in the downtown area are all 55+ Communities; Flori De Leon Apt Co-Op, Lake Palms Apt Co-Op, Suncoast Towers Apt Co-Op.
Q. What are the closest grocery stores?
There is a Publix Super Market located at 250 3rd St S, St. Petersburg, FL 33701, and 725 1st Ave S, St. Petersburg, FL 33701. You'll also find smaller markets like Black Radish Vegan Grocer in the mix of the city and a Trader Joes a bit further out at 2742 4th St N, St. Petersburg, FL 33704.
Q. Where are the best restaurants?
There are too many great restaurants that can fit into this category - but my top five places to eat downtown are; Frescos Waterfront Bistro, Doc Fords, Sauvignon Wine Locker & American Trattoria, Parkshore Grill, and Oak and Stone. You simply can't forget an after-dinner sweet treat at Paciugo Gelato & Caffè or Kilwins!
Q. Where are the most walkable areas?
Most of the downtown St. Pete area in the 33701 zip code is wonderfully walkable. The main strips of restaurants, bars, parks, and entertainment can be found along Beach Drive and Central.
Q. What sporting events are near Downtown St Pete?
The Tropicana field between 1st Ave S and 16th St S is home to the MLB Tampa Bay Rays. Catching a Rowdies Game at Al Lang Stadium is always a good time. The Rowdies are St. Pete's Pro Soccer Team - and the stadium is located right along the waterfront at 1st St S and 2nd Ave S. These venues also host a variety of other events like the Enchanted winter experience at the Tropicana and the Saturday morning market in the parking lot of Al Lang Stadium.
Q. Are there any beaches/parks around Downtown St Pete?
You can find sand and designated swimming areas downtown St Pete at Spa Beach Park which is along the Downtown Pier or North Shore Park Beach. St. Pete Beach is also only a 15-20min drive along 1st Ave S if you want to experience a beach sunset over the Gulf. If you prefer the shade and want to bring your dog and a chair to a grassy park, we recommend Vinoy Park, North Straub Park or Demens Landing Park.
Q. Are there Marinas nearby to rent boat slips?
Downtown has beautiful, well-maintained marinas along the Tampa Bay waterfront. St. Petersburg Municipal Marina, Vinoy Marina, Harborage Marina, Electric Marina. You can also find great boat and water sport rental companies; Freedom Boat Club and Bada Bing Sports.
Q. Where are the closest Golf courses?
The closet public courses can be found at Mangrove Bay and Cypress Links at 875 62nd Ave NE, St. Petersburg, FL 33702, and Twin Brooks Golf Course at 3800 22nd Ave S, St. Petersburg, FL 33711. You can also become a member of the Vinoy Golf Club on Snell Isle or access by staying at the Vinoy Hotel. The St Pete Country Club is only about a 10-15min drive from downtown as well.
Q. How is the traffic/transportation downtown St Pete?
You can find some delays during typical rush hour hours and weekends. But most of Downtown St Pete and the 33701 zip code is very walkable and has well-organized street systems. You'll find many walking, jogging, and biking along the sidewalks and streets. You can also rent scooters and bikes at many intersections in Downtown St Pete. There is the Looper Trolley that you can ride for free and take all the way to St. Pete Beach!
Q. How is parking?
Most areas downtown will have metered 2-hour parking that you can pay with a card or coins. There are also parking garages like; Sundial Parking Garage at 117 2nd St N, St. Petersburg, FL 33701, SouthCore Parking Garage at 101 1st Ave S, St. Petersburg, FL 33701, and McNulty Garage at 175 2nd St S, St. Petersburg, FL 33701 that is typically open for paid public parking.
Q. How far away is the city from an airport?
The Tampa International Airport is about a 20-30 minute drive away from Downtown St Pete and the smaller St. Pete/Clearwater International Airport is only 15min away. The Albert Whitted Airport is right along the Downtown waterfront too - but does not have commercial flights. Just sightseeing tours and flight training.
Downtown St Pete Condos By Price
Other Popular St Petersburg Condo Choices