Popular Seminole FL Areas With Homes For Sale
There are homes for sale in Seminole Fl in many great neighborhoods. Below is a summary of some of the biggest and most popular neighborhoods. Seminole also has lots of smaller neighborhoods that are charming that can be hard to find if you are not familiar with the area, so give us a call at 727-619-2799 and we can find out your specific interests and needs and introduce you to some of these gems. You can use the navigation panel in the upper right corner of the sidebar to explore the most popular Seminole single family home communities. Interested in a condo in Seminole Fl? Check out the Seminole condos.
Canterbury Chase – Deed Restricted | $200,000 to $400,000
A wonderful deed restricted golf course community built in the 1970's with 2, 3, and 4 bedroom homes ranging in size from about 1,400 to 3,000 sq ft. The community has about 300 homes and is on the Tides Golf Course about 2 miles from Bay Pines and the VA Hospital. It's about a 3 mile drive to Madeira Beach via the Tom Stuart Causeway. Read More and See Listings...
Harbor View – $300,000's to $1 Million + | Water Views
These homes are located south of Park Blvd about a mile east of Indian Shores beach and just west of the Tides Golf Club. Some of the homes have great water views of the Intracoastal and generally run $600,000 and up. There are some non-waterfront homes too and these generally run from the $300's to $600,000. Read More and See Listings...
Oakhurst Shores

- $200,000's to $600,000 and Up | Waterfront
A subdivision of about 250 homes on finger islands adjacent to the Tides Golf Course and Boca Ciega Millennium Park. These are mostly 3 bedroom 2 bath homes with about 2,000 sq ft of living space although there are sometimes two and four bedroom homes available. Many of the homes are water-front with their own docks and most of the homes have pools. Read More and See Listings...
One of the largest subdivisions in Seminole with almost 1,000 single family homes. The subdivision has 2 and 3 bedroom homes ranging in size from about 1,000 sq ft to 2,000 sq ft. Read More and See Listings...
Seminole Groves is another large moderately priced subdivision in the heart of Seminole. The mostly 3 and 4 bedroom homes are popular due to their location near the highly rated Seminole Schools. Read More and See Listings...
This popular golf community is home to about 200 single family homes nestled in the Seminole Lake Golf Club. Most of the homes are 3 and 4 bedroom ranch style homes with 2,000 to 3,000 sq ft of living area. Read More and See Listings...
Tamarac By the Gulf - $100,000's to $200,000's | 55+Senior Community
Tamarac is one of the most popular 55+ senior communities in the area. This 400 home community is mostly comprised of 2 bedroom 2 bath home with about 1,200 sq ft of living area although some homes are larger or smaller. They have a great clubhouse and pool and lots of things to do. Most of the yard and exterior maintenance is provided by the association. Read More and See Listings...
Thurston Groves - $500,000 to $1 Million | Newer Luxury Homes
Large 4 and 5 bedroom luxury homes built in the 2,000's making them some of the newer homes in the Seminole area. There are about 80 homes in the subdivision and most of the homes have pools with screened lanais. The subdivision is located just off 102nd Ave N near Walsingham Park and just 5 miles from Indian Rocks Beach. Read More and See the Listings...
Traditions - $400,000's to over $600,000 | Newer Luxury Homes
This 44 home luxury subdivision was also developed in the early 2,000's. This is one of the few gated communities in Seminole. The homes range in size from about 2,500 sq ft to 4,000 sq ft. They have open floor plans with lots of modern conveniences. Read More and See Listings...
Yacht Club Estates - $200,000's to $300,000'| Next to Golf Course
Yacht Club Estates Seminole is a wonderful 250 home community on the western side of Seminole. The subdivision is not deed restricted, but as you drive through you will see beautiful landscaping and pride of ownership. Most of the homes are 3 bedroom 2 bath layouts and many have pools. Some of the homes back up to Baypointe Golf course and have wonderful views of the fairways and greens. Read More and See Listings...
Seminole Golf Communities
Still another reason homes for sale in Seminole Fl are so popular is the great Golf Communities in the Seminole/Largo area. Bardmoor, Seminole Lake Golf and Country Club Estates, and the Bayou Club are popular choices for golf enthusiasts, or those that just enjoy the great views these communities have to offer. What a great back door neighbor!
About the Seminole FL Area
Seminole FL Location and Things to Do
Seminole FL is located on the western side of Pinellas County near the Intracoastal waterway and adjacent to the Indian Shores and Redington beaches. Seminole locals love to pack a picnic, grab their beach chairs and head to the beaches to watch the sunsets over the Gulf and have a picnic dinner. There are some great small local parking spots on the beach that you'll discover once you live here for a while. In the meantime, here are some of the more popular larger public parking spots - take quarters or a credit or debit card: Indian Shores Tiki Gardens Beach Access, and the Madeira Beach Access and Shack Shop, and Redington Shores Beach Access Park.
Seminole FL Parks & Recreation
There are great parks in Seminole like Walsingham Park, Lake Seminole Park and the War Veterans Memorial Park. They are dog friendly and have wonderful walking trails. The War Veterans Memorial Park and Boca Ciega Millennium parks even have water access and kayak launches.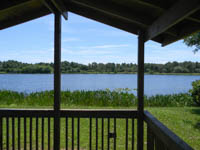 Walsingham Park sits on over 300 acres of land located between Seminole Fl and Largo between Walsingham Rd and 102nd Ave N just off 113th Street. Walsingham Lake covers about 100 acres of the park and you will often see people fishing or kayaking or canoeing on the lake. If you are a dog lover, a word of warning. Walsingham Park has a great dog park for your four legged friend, but don't take your pup for a walk along the shoreline as there can be gators in the lake. There are lots of walking and biking trails where you can relax and see the wildlife which includes turtles, butterflies, and an assortment of birds.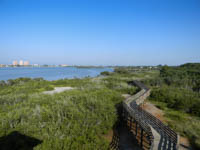 Boca Ciega Millennium Park is located in Seminole Fl and features a 35 foot wooden observation tower that offers panoramic views of Boca Ciega Bay. There are coastal and inland trails to explore which are an easy walk and offer views of a wide variety of plant-life birds and maybe other surprises. We once saw a hawk swoop down on Boca Ciega Bay and grab a fish in flight. Boca Ciega Millennium Park is recognized by the Florida Fish and Wildlife Conservation Commission as a "Great Florida Birding Trail." Park visitors can enjoy searching for wading birds, birds of prey and a variety of upland birds.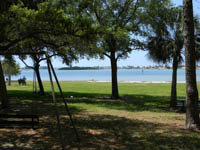 War Veterans' Memorial Park is located in the southern part of Seminole Fl as a memorial to our military veterans. There is a landscaped Memorial Center featuring five plaques with official armed forces flags that commemorates each of the military branches of the United States. The park also has a great boat ramp and a kayak launch and cleaning station on the southern tip and access to Boca Ciega Bay. There are great picnic spots and playgrounds for the kids. If you like to kayak, there are some great natural areas up in the bayou if you go northeast out of the kayak launch.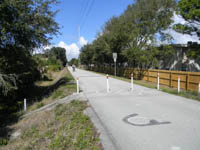 Pinellas Trail also known as the Fred Marquis Pinellas Trail is a "linear park" which runs about 30 miles from Tarpon Springs to the Pier in downtown St Pete. The trail was mostly created along an abandoned railroad corridor and now provides a popular paved trail and green space for walking, biking, skating and jogging for Pinellas residents and visitors. The trail runs through Seminole just east of Walsingham Park. If you ride south on the trail from Seminole, it's about 8 mile to Tyrone Mall, and about 7 miles to a beautiful crossing over the bayou and Boca Ciega.
Indian Rocks Beach Access Park is a convenient place where many Seminole and Largo residents park and enjoy popular Indian Rocks Beach. It is a paid facility, but offers very convenient access to the beach and restrooms and showers.
Tiki Gardens/Indian Shores Beach Access Park is another convenient spot where visitors and Seminole homeowners park to enjoy Indian Shores beach. It is on the east side of Gulf Blvd just north of Park Blvd across the bridge from Seminole Fl. Bring change or a credit card.
Seminole Schools
One of the reasons homes for sale in Seminole Fl are so popular is the great schools that are available. Many residents and buyers feel that Seminole has some of the best public and private schools in Pinellas County. You can check the schools serving a specific address at the Pinellas County Schools site.
Interested in a home in Seminole Florida?
We are here to help. Give us a call at 727-619-2799
or use our handy contact form below.