Seminole Isle Condos & Townhomes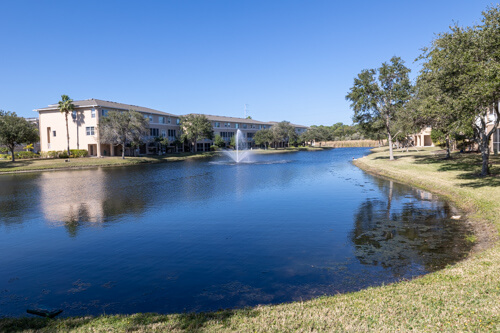 Seminole Isle is located near Lake Seminole and offers single-level condos and multi-level townhomes with waterfront views of saltwater inlets and freshwater ponds.
This gated community has a fitness center, upscale clubhouse, a heated pool, and two tennis courts. Seminole Isle offers two and three-bedroom condos and townhomes.
Built from 2005 to 2007 Seminole Isle is one of the newer condo/townhome communities in our area. It is conveniently located just across the street from Lake Seminole Park. It is located on a private peninsula surrounded by the waters and mangroves of the Long Bayou.
Seminole Isle Condo and Townhome Listings
September 23, 2023
Waterfront Condos In Seminole Fl
Seminole Isle Condos & Townhomes Key Information *
| | |
| --- | --- |
| Address: | 7253 Key Haven Rd, Seminole, FL 33777 |
| Name: | Seminole Isle Condos | Seminole Isle Townhomes |
| Views(s): | Long Bayou |
| Buildings/Floors: | 180 Condos | 90 Townhomes |
| Pets: | 2 up to 50 lbs total |
| Pool(s): | Community Pool |
| Fitness: | Fitness and Tennis |
| Maintenance Fees: | About $250 per month |
| Rental Policy: | 6 months to 1 year |
| Year Built: | 2005 to 2007 |
* All information is subject to change and should be verified by the buyer prior to entering into any purchase contract.
More Information About Seminole Isle Condos & Townhomes
The community has some wonderful amenities. They start with a gated entrance off of Park Blvd. Turn right at the entrance and you'll arrive at the clubhouse. The clubhouse has a well-appointed sitting area and a full catering kitchen. There is also a well-equipped gym.
The back doors of the clubhouse open out onto a large patio that overlooks the resort-like heated swimming pool. The large pool is surrounded by a wide border of pavers where you will find lots of sitting options to relax and visit.
Behind the pool area, there are tennis courts. The full-size tennis courts also double as pickleball courts. There are also lots of attractive ponds scattered throughout the complex, with comfortable benches where you can read, relax, or just enjoy the pond views.
Location
The neighborhood is on the south side of Seminole, just across Park Blvd from the entrance to Seminole Lake Park. It is about 5 miles from Indian Shores Beach on Park Blvd. It is about 15 miles from downtown St Pete and 25 miles from Tampa International Airport.
What's Nearby
The Seminole Isle condos and townhomes are literally surrounded by things to do and see. Lake Seminole Park, just across the street, is one of the best equipped of the Pinellas County Parks. It has a two-mile walking and bike trail, picnic areas, playgrounds, boat ramp, fishing, and more. It is a designated wildlife habitat and sanctuary. You can often see raccoons, alligators, eagles, turtles, snakes, and a wide variety of birds.
Boca Ciega Millennium Park is just 4 miles west of Seminole Isles via Park Blvd. It has a 30-foot high tower overlooking Boca Ciega Bay and a boardwalk along the shoreline. Indian Shores is a popular beach for the locals and is just 5 miles west of the Seminole Isle condos and townhomes. The War Veterans Memorial Park and VA Hospital are just 4 miles south via Alt 19/Seminole Blvd. Madeira Beach and Johns Pass are only about 5 miles away and a great spot to have dinner or a drink with a great water view.
Lifestyle
This is a luxury low-maintenance condo/townhome living in the heart of Seminole FL. It is a relaxing setting surrounded by the bayou and right next door to beautiful Lake Seminole Park.
Why People Live in Seminole Isle
Seminole Isle is centrally located in Seminole Fl near Lake Seminole. The condos were built in 2005/2006 so they are some of the newer condos in Seminole and offer lots of modern conveniences. The units all have beautiful views ranging from saltwater inlets to freshwater ponds. Beautiful Lake Seminole Park is just across the street with lots to do and see.
This is a gated community and protected environment with just one guarded entrance off Park Blvd N. The condos are located on a peninsula that juts out into the Cross Bayou south of Park Blvd. The condos and townhomes all line a circular road that encompasses a freshwater pond. The condos are on the western side of the peninsula, and the townhomes are on the eastern side. The pool and clubhouse are in the center overlooking a beautiful freshwater lake. A walking trail ambles around the perimeter of the community and around the central lake.
Interested in Seminole Isle or another Seminole Fl condo?
We are here to help. Give us a call at 727-619-2799 or use our handy
contact form
.