Closing a Property In A Trust Name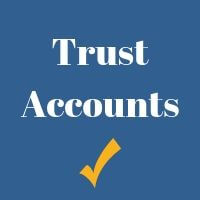 How are the funds released to the seller if the property is in a trust?
When you are selling your property and the title is in the trust name, the proceeds can only be wired to an account that is in the name of the trust.
For example:
The trust name is John Smith Family Trust. When the closing is complete, the wire must go to an account that is named John Smith Family Trust. This money cannot be wired to a person's personal account, even if they are the trustee.
Also, if you are getting a check at closing for your proceeds, the check will be made out to the family trust name. If the proceeds are being used for the purchase of another property, these funds can be wired to another title company for that purpose.
When you go to a bank to deposit the proceeds check, the bank might have you open a new account in the trust name and then deposit the check. Remember to take your trust documents with you to the bank for the opening of the account.