Sand Key -- Where is it?
This page is all about Sand Key. Sand Key is actually a geographic area on a Gulf Coast barrier island within Clearwater. Sand Key starts just south of Clearwater Pass and continues down the island about 2 miles to the point where Clearwater ends, and Belleair Beach begins, just south of Dan's Island. The western side of Sand Key faces the Gulf of Mexico and Gulf Beaches, and the eastern side faces the Intracoastal Waterway and Clearwater Harbor. See what Wikipedia has to say about Sand Key.
Find Out About What is On Sand Key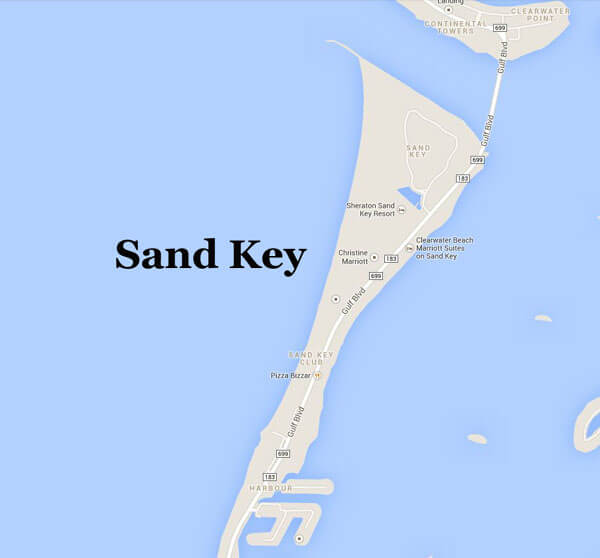 Sand Key is home to some of the most beautiful beaches in the world. Gulf Boulevard is the major road running through the middle of the island. There are 18 major condominiums on Sand Key and an assortment of smaller condos and single-family homes. Popular Sand Key Park is on the northernmost tip of the island facing Clearwater Pass. The two wonderful and luxurious resort hotels on the northern part of Sand Key are the Sheraton Resort and the Clearwater Beach Marriott Suites. If you like sailing, or want to give sailing a try, you'll want to check out the Clearwater Community Sailing Center which is on the north-eastern side facing Clearwater Harbor across from the Park. The Shops On Sand Key are home to over a dozen restaurants and shops and overlook Clearwater Harbor.
About Sand Key Nearby Things to Do
Clearwater Beach is only 2 miles north of Sand Key. Pier 60 is a great place to watch the sunsets, take in a twilight movie, watch the street performers, or check out the local artists. The Clearwater Marine Aquarium (yes home to Winter the dolphin) is 3 miles away and has exhibits and adventure tours.
Downtown Clearwater is only 6 miles away and offers a wide variety of restaurants and nightlife. Bright House Field, home to the Phillies Spring Training games, is only about 9 miles east. Popular Honeymoon Island and Caladesi Island State Park are about 13 miles away and offer incredible natural beauty. Honeymoon Island has one of the only two dog beaches in Pinellas County and is a wonderful place to take your pup. The Honeymoon Island Dog Beach is a must-see if you are a dog lover -- it is prettier than the "human" beach!
Tampa International Airport is only about 20 miles away, and Disney World is about 90 miles or two hours away by car.
Please call us at (727) 619-2799, or Contact Us if you want to get more information about the area, or if you would like to look for a place to live in this beautiful paradise, or if you would like to know more about Sand Key!
Beachfront Condos On Sand Key