Imperial Point Condos Largo FL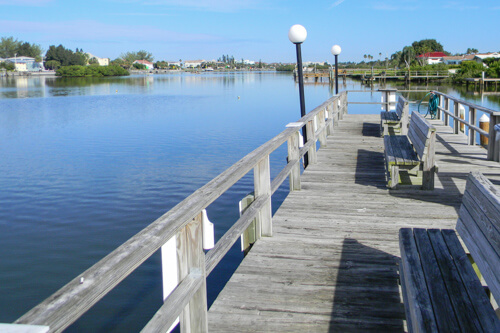 Imperial Point condos in Largo Fl are some of the most popular condos in the area. This popular community is located at the eastern end of 102nd Ave N off Hamlin Blvd. The waterfront condos at Imperial Point have water views off the Intracoastal Waterway just east of Indian Rocks Beach/Indian Shores. The neighborhood also includes about 260 condos and about 350 single-family homes.
The clubhouse, heated pool, and boat docks are located with water views of the Intracoastal Waterway.
Besides being in a great location on the water, the Imperial Point condos are some of the most popular in Largo because of the great amenities in the neighborhood. There is a well-equipped clubhouse, tennis courts, a waterfront pool on the Intracoastal, a dock, a boat launch, and a fishing pier to enjoy.
Imperial Point Condo Listings
October 4, 2023
Imperial Point Condos Key Information *
Address:
10120 - 10216 Regal Dr, Largo FL 33774
10190 Imperial Point Dr, Largo FL 33774
Name:
Imperial Point Condo
Views(s):
Some Intracoastal Waterfront Views
Buildings/Floors:
About 20 bldgs | Single to 7 Floors | 260 units
Pets:
No Pets
Pool(s):
Heated Waterfront Pool
Fitness:
Yes in Clubhouse
Maintenance Fees:
$300 to $400's per month
Rental Policy:
Generally 3 Month Min
Year Built:
1969 to 1979
* All information is subject to change and should be verified by the buyer prior to entering into any purchase contract.
More Information About Imperial Point
Imperial Point is comprised of about 350 single-family homes and over 250 condos. The neighborhood is deed restricted and well maintained.
Imperial Point condos include 2 bedroom 2 bath layouts ranging in price from the low to high $100,000's and ranging in size from about 1,100 sq ft to about 1,400 sq ft. One bedroom, one bath Imperial Point condos for sale in Largo Fl are about 800 to 900 sq ft in size and are available for under $100,000. Some waterfront units are also available. Scroll down the page to read more about the area and why Imperial Point is such a great place to live.
Location
Imperial Point is about 3 miles from Indian Rocks Beach and Indian Shores. It is located in the southern part of Largo and the northern part of Seminole, Fl. It's about 20 miles from downtown St Pete, and 25 miles from Tampa International Airport.
What's Nearby
Imperial Point is conveniently located just 3 miles east of Indian Rocks Beach via the Walsingham Rd/Indian Rocks Beach bridge. With the clubhouse, waterfront pool, fishing pier, and other amenities, you may never want to leave the neighborhood! But when you want to get out, the beach is just 3 miles away, or visit popular JD's Restaurant and Lounge for a great breakfast on the water.
Want to go for a picnic, or take your dog for a walk? Walsingham Park is just 3 miles east. Or take a walk or bike ride on the Pinellas Trail, a unique 30 mile long "linear park" just east of Walsingham Park. Want more action or want to catch a sunset movie on the beach? Clearwater Beach is just 10 miles north of some great Imperial Point homes for sale.
Lifestyle
Residents just love this neighborhood. It has a great sense of community and some of the best amenities in the area. There is a "pot luck" dinner at the clubhouse just about every week where neighbors bring and share their best dishes. The clubhouse has fitness, pool tables, a game room, and catering facilities, so it is a place the whole family can enjoy. Enjoy the heated waterside pool, or sit on the community dock and watch the sunset over the Intracoastal Waterway. If that's not enough, you are also a short drive from Indian Rocks Beach, popular Walsingham Park, and the Pinellas Trail!
Why People Love Imperial Point Condos and Villas
People choose Imperial Point condos in Largo Fl for a variety of reasons. Imperial Point is conveniently located close to Indian Rocks/Indian Shores beaches, Walsingham Park, and lots of other fun things to do. It has some of the best community amenities in Pinellas County. The deed-restricted neighborhood has beautiful, well-maintained condos and homes for sale as you can see from a drive through the neighborhood.
Interested in Imperial Point or another Largo Florida condo?
We are here to help. Give us a call at 727-619-2799 or use our handy
contact form
.