Mandalay Subdivision Clearwater Beach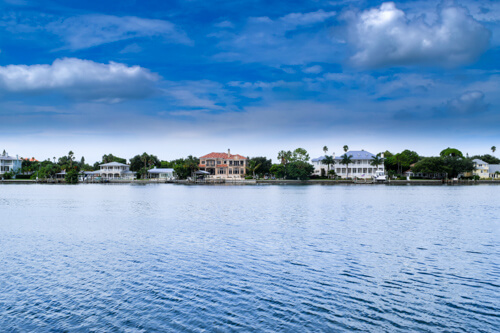 Mandalay Subdivision is the second-largest single-family community on Clearwater Beach with over 500 homes (Island Estates is the largest).
Mandalay homes include a wide choice of inland homes, waterfront homes on the Intracoastal, and beachfront homes on the Gulf of Mexico. Home sizes range from 2 bedroom 2 bath layouts with about 1,500 sq ft of living area to 4 and 5 bedroom homes with over 3,000 sq ft of living area.
Interested in a home on Clearwater Beach?
Save time and give us a call at 727-619-2799 or use our handy contact form.
Read More Below... or See the Condos.
Homes for Sale in Mandalay Subdivision
October 4, 2023
$1,467,500
Med. List Price
Popular Clearwater Beach Subdivisions
More About Mandalay Subdivision Clearwater Beach
Development of Mandalay subdivision began in the 1920's and rebuilding continues to this day. About a quarter of the homes are waterfront properties lining Clearwater Beach and the Gulf of Mexico on the western shore and the Intracoastal Waterway on the eastern shore. A "typical" Mandalay home is a 3 bedroom home with 2 or 3 baths and around 2,000 sq ft of living area. But one of the great things about this community is there is a wide variety of home sizes, styles, and prices.
Location
The subdivision is located on Clearwater Beach Proper from Acacia Street on the south up to the northern end of the island where it mixes with the Carlouel Subdivision. It is bounded on the west by Clearwater Beach and the Gulf of Mexico, and on the east by the Intracoastal Waterway. See the map below for a diagram. A good GPS address for the southern entrance to the subdivision would be 701 Mandalay Ave Clearwater Beach, FL 33767.
What's Nearby
The Carlouel Yacht Club is just north of the subdivision. It is a private, family oriented club offering superb dining, a variety of recreational activities, and an opportunity to socialize. Explore the beach, dine on fresh-caught local fish or relax and enjoy the poolside cabanas at this wonderful facility. Drive south about a mile and enjoy breakfast, lunch or dinner at the Clear Sky Cafe. Clear Sky offers a variety of tapas appetizers, specialized pizzas, paninis, burgers and salads with live entertainment in the outdoor seating area. Want a casual setting to grab a snack, meal, or drink right on the beach? Frenchy's Rockaway Grill is a great choice for a burger, sandwich or meal.
Lifestyle
Enjoy the Gulf breezes, access to beautiful Clearwater Beach or boating in Clearwater Harbor or the Intracoastal Waterway from your home in Mandalay Subdivision.
Why People Live in Mandalay Subdivision Homes
This subdivision offers a wide variety of home options in terms of size, cost, and waterfront access. Whatever you choose, they all provide a great location close to all that Clearwater Beach has to offer.
Interested in a home in the Mandalay Subdivision in Clearwater Beach?
We are here to help. Give us a call at 727-619-2799 or use our handy
contact form
.