Top Things to Do in Clearwater Beach
There are so many things to do in Clearwater Beach we can't possibly list them all. But below we will share with you some of our very favorite things to do on Clearwater Beach. This includes Clearwater Beach attractions, dining choices, and just fun places to hang out.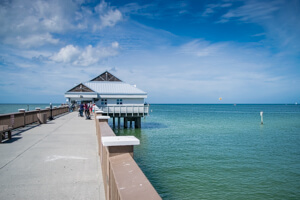 Pier 60 is one of the most popular and well-known landmarks on Clearwater Beach. The pier is located right in the heart of Clearwater Beach just off the roundabout. It includes the Pier 60 Park which is a grassy area where they hold concerts events as well as the pier itself.
Sunsets at Pier 60 features artisans, street performers, and world-famous Pier 60 sunsets. Take a low-lying lawn chair or blanket and enjoy the show and the ocean breezes.
There is also a Daily Sunset Festival that happens two hours before and after the sunset. There are a variety of street performers that are fun to watch. If you want to buy some local crafts, there's usually a good assortment of crafters selling their wares.
The fishing pier reaches out over a thousand feet into the Gulf of Mexico. It's fun to walk out and have a higher view of the beaches. If you like to fish, fishing equipment and bait are available for rental or purchase near the end of the pier. Depending on the season, we have seen people catch trout, snook, Spanish mackerel, and even tarpon. There is a small fee to go to the end of the pier.
Spend A Day on Clearwater Beach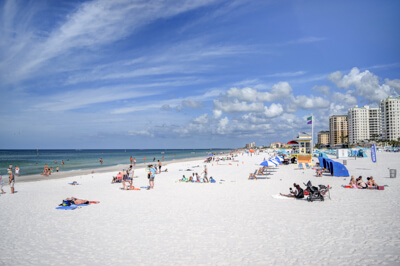 Clearwater Beach has earned lots of awards as one of the best beaches in the world. It has shimmering white sand and sparkling waters. You can just take a stroll after visiting Pier 60, but it is a wonderful experience to rent some chairs and a shade tent. Just hang out and enjoy the ocean breezes, listen to the seagulls, and people watch.
See Caladesi Island State Park
Caladesi Island is one of the few untouched islands on our Gulf Coast, It is only accessible only by boat or ferry, but that is what makes it so special! You can spend hours strolling along the pristine beaches and enjoying the beauty and solitude. Or hike the nature trail through the interior of the island and see the historic Scharrer Homestead. Visit the Florida Parks and Trails website to learn more about the Ferry, Food Services, and Kayak paddling adventures.
Segway Tour of Clearwater Beach
The Segway Tour is one of our favorite attractions on Clearwater Beach. We started our tour on the southern section of Clearwater Beach and traveled along the coastline up to the pier. We stopped at the pier for a little break, then proceeded north and then over the bridge to Clearwater itself. The view from the bridge is spectacular and it was a very fun day.
Jet Ski Tour
There are lots of jet ski rentals in Clearwater Beach, but we really recommend a guided tour. Our jet skis came complete with headphones and the guide told us lots of interesting facts about the marine life and area. You'll tour Clearwater Beach, the Nature Preserve of Caladesi Island, and further north to Three Rooker Island and Anclote Key.
Visit Some Attractions In the Marina Area
The Marina Area is located just across the roundabout from Pier 60. It is lined with a variety of water sport attractions. There are lots of choices but some of our favorites are the Screamer, the Pirate Ship, and the Sunset Tour.
When we were out in the Screamer the captain adjusted our speed, and some dolphins came up and frolicked in the wake of the boat for several minutes. It is amazing to see these beautiful creatures close up.
Enjoy One of Our Great Local Restaurants
One of the things we really love about the Clearwater beach area is there are lots of local restaurants, and not that many chains. Here are half a dozen of our favorites:
This is one of our favorite places for breakfast, lunch, or dinner. They have a great variety of interesting foods, and also have great bartenders. Their theme is "Our award-winning menu offers a culinary tour of the world's best flavors…"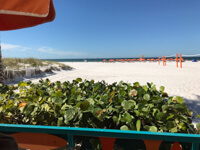 The Rockaway Group offers open-air dining right off the beach and Gulf of Mexico. We think it has the best view of any restaurant on Clearwater Beach. It is great for lunch, or watch the sunset over the Gulf at dinner. It has two bars and usually offers live entertainment as well. It's just a fun place to go. They are famous for their grouper sandwich.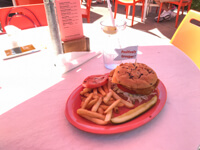 The South Beach Cafe is located in the southern part of Clearwater Beach just across the street from the beach. While you don't have the great view that you have at the Rockaway grill you can still hear the seagulls and enjoy the sea breezes.
The Original Cafe is one of Frenchy's smaller venues, but it is the first of their restaurants. We think the food there is still the best. It is located right across the street from the Sandpearl Resort. There is no view, but it is a fun and lively place nevertheless.
This is probably the top vegetarian-friendly restaurant in Clearwater Beach. They feature amazing organic foods and drinks. The organic coffee is strong and delicious, and they have a great variety of organic smoothies. For breakfast, they serve pancakes, egg sandwiches, fresh bagels, and cereals. For lunch, they have tuna, chicken salad, veggie burgers, and salads. They are only open for breakfast and lunch.
One of the best-kept secrets for Clearwater Beach dining is the Bait House Tackle & Tavern in the Marina area. They feature fresh, locally caught seafood, and an assortment of beer and wine. It is located in a small deck overlooking Clearwater Harbor on the northern end of the Marina Area. We think it is some of the freshest and best seafood in the area. If you are not a seafood lover they also serve burgers, chicken, and salads.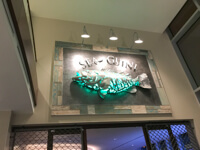 For elegant dining Sea Guini in Opal Sands one of our favorites. It is an elegant place but not overly stuffy. They have a nice selection of house-made pasta. They also serve local seafood, ribs, lamb, veal, and steaks. There is even a hearth pizza oven and a dedicated pizza chef.
We hope you enjoyed our blog about the top things to do in Clearwater Beach, and Clearwater Beach attractions.
If you have any questions or would like to add to our list, we'd love to hear from you! Please give us a call at 727–619–2799 or use the contact form below.
Beachfront Condos On Clearwater Beach
Waterfront Condos On Clearwater Beach
Questions or Comments? Call 727) 619-2799 or use the form below to email us.