Pier 60 Clearwater Beach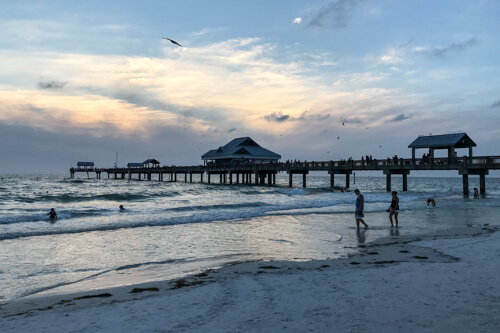 The activities at Pier 60 Clearwater Beach include the daily Sunset Festivals, the Sunset Cinema Movies, street performers, crafters, food vendors, people watching, and more. Pier 60 is a great place to spend an afternoon or evening. It is located right in the heart of Clearwater Beach near the roundabout.
Daily Sunset Festival - The Sunsets at Pier 60 Daily Festival operates 364 days a year from two hours before sunset until two hours after sunset, weather permitting. When you go you will see artisans, crafters, street performers, and the world famous Pier 60 sunsets over the Gulf of Mexico.
Street Performers - One of our favorite things is to watch the Street Performing. There's no telling who will show up on any given night, but we have seen some really talented people who enthralled the audience. There is no admission fee and no tickets sold, but the performers are not shy about asking for a well-deserved donation at the end in a nice way.
Crafters - There is usually a good assortment of crafters selling their wares. It's interesting stuff and the vendors are always happy to talk to you. You can usually find a unique gift to take home the family or loved ones. The crafters typically include braids and wraps, photography, makeup, paintings, artwork, jewelry, nautical items, candles, gift items, and much more.
Fishing Pier - There is also the fishing pier which reaches out over a thousand feet into the Gulf of Mexico. You can walk part of the pier near the shoreline but there is a fee to go out to the end. It depends a lot on the season and tides, but the common fish that are caught include Spanish mackerel, trout, snook, redfish, tarpon, sheepshead, snappers, flounder, jacks and more.
We hope you enjoyed this write-up about one of our favorite beach spots, Clearwater Beach Pier 60. If you have any questions or need help in any way please give us a call at 727-619-2799.
Location:
10 Pier 60 Drive
Clearwater, FL 33767
Beachfront Condos On Clearwater Beach
Waterfront Condos On Clearwater Beach