Clearwater Beach Condo Sales 2020
Summary
Anybody who follows real estate in the Clearwater Beach area knows that inventory was a tremendous challenge in 2020. Despite this, Clearwater Beach had a phenomenal year for condo real estate sales. The average price for a Clearwater Beach condo rose above $600,000 in 2020. This represents about a 7% annual increase over the last 10 years. Two-bedroom condos were the most popular configurations representing over half of the sales. Three-bedroom units represented about a quarter of the sales, and one-bedroom units about 10%. Studio units and 4 plus bedroom condos are very unusual in the Clearwater Beach Market.
The average sale price to list price ratio was almost 97%. This represents the highest ratio in the last 10 years. Correspondingly average days on market dropped to about a hundred days which represents a 10-year low.
The average price for a Clearwater Beach condo was higher than any of the other Pinellas beaches from Clearwater Beach to St Pete Beach.
Inventory
As can be seen in the graph below the average number of listings available per month was at an all-time low in 2020.

But at the same time, the number of actual sales hit an all-time high in 2020. So it is not the lack of sellers that is creating the low inventory, but rather, extremely high demand by buyers.

Sales Price to List Price
Due to this high demand, the ratio of the sale price to list price rose to almost 97%. This represents the highest level in the last 10 years.

Days On Market
Also, as buyer demand outstrips seller supply, the days on market fell to a low of just over 100 days. This is the lowest level in the last 10 years.

Popular Condo Configurations
The most common configuration sold was a two-bedroom two-bath unit. Two-bedroom condos represented over half of the condo sales in Clearwater Beach in 2020. Three-bedroom units represented about a quarter of the sales in 2020, and one-bedroom units about 10%.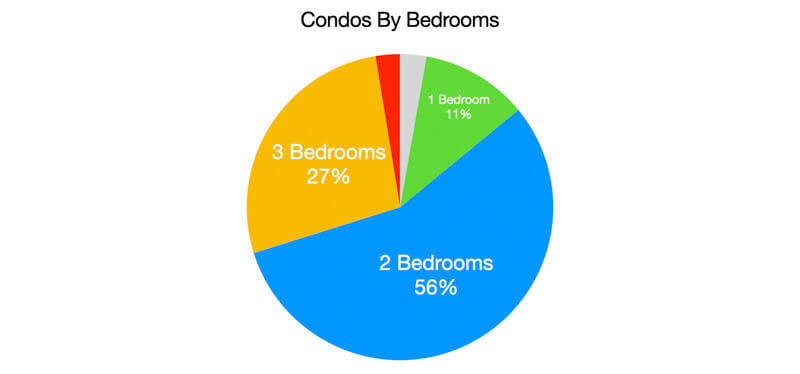 The scarce 4 + bedroom condos had an average sale price of a whopping $1.3 million dollars. Three-bedroom units were also expensive at almost $1 Million per sale. Two-bedroom units were much more affordable at about half of that price. These are the average prices for all units. Beachfront condos, on average, were about 50% more expensive and then the non-beachfront condos.

Clearwater Beach Vs. Other Pinellas Beaches
The average condo sale in Clearwater Beach was higher than any other Pinellas Beach area as you can see in the chart below. Clearwater Beach condos averaged over $600,000. Sand Key, the second northernmost Pinellas Beach was close behind. The Middle Beaches from Indian Rocks to Redington Beach were the next most expensive. And the southern beaches of Treasure Island and St Pete Beach had the lowest average sale prices.

What This Means To Buyers
There has been tremendous demand for beach condos in our area. But with some careful shopping and the help of an experienced agent monitoring the market you can find a condo to fit your needs. Things move quickly, and it is important to be prepared as you start your treasure hunt for a Beach area condo.
Ask your agent to connect you with a good local lender who knows this market. It is important to get pre-qualified if you want your offer to be taken seriously. A good lender can also help you know your buying power and to establish a realistic budget. If you're going to pay cash, that's even better, but you will need reliable proof of funds to start the buying process.
Get Help From An Expert
We hope you enjoyed this update about Clearwater Beach condo market trends in 2020.
We are happy to help! please give us a call at (727) 619-2799 to get help from an experienced local expert. Or use the handy contact form below.