Frenchys Clearwater Beach Restaurants
Frenchy's Clearwater Beach is one of the most popular and best restaurants in the Clearwater beach area. They have four wonderful locations in Clearwater Beach, and one in Dunedin.
Yes, there is a Frenchy!
The restaurant was started by Michael Preston. Michael was born in Québec which is a French-speaking province in Canada. He started Frenchy's Original Café In 1981. His concept was to create a "laid-back place where people could come to enjoy a cold drink and fresh seafood". The restaurant became an instant success and famous for its Super Grouper sandwich. They still put a "Positively Grouper" flag on every grouper sandwich. By the way, it is still delicious!
The Original Frenchy's Café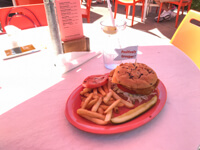 The Original Frenchy's Café is located at 41 Baymont Street the heart of Clearwater Beach. It is located right across the street from the elegant Belle Harbor condos and townhomes. It is caddy corner from the Sandpearl Resort. This is one of the smaller Frenchy's restaurants but it is very quaint and lively.
They have the best Guacamole dip in the area! They still serve many of the original Frenchy's menu items, like the smoked fish spread, seafood gumbo, boiled shrimp and Greek salad. And of course, the Grouper Sandwich.
Frenchy's Rockaway Grill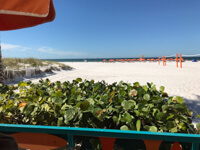 The Rockaway is located at 7 Rockaway St. just south of Mandalay Park. It is a little less than a mile north of Pier 60. It is located right on Clearwater Beach and so has terrific views of the beach and the Gulf of Mexico. It is a jumping place with live music and two bars. We think it has the best views of any restaurant on Clearwater Beach. You can sit inside if you like. We like to sit on the porch and feel the ocean breeze and see the beach. You just feel like you're on vacation for a while when you dine there even if you aren't.
The Rockaway is famous for its rum runners and other refreshing beverages. They feature daily live music from talented local artists. Besides being a great place to dine, this is one of the best places to watch the sunset on Clearwater Beach.
Frenchy's South Beach
This location is on the southern end of Clearwater Beach just north of the Opal Sands Resort. It is located just across the street from the beach. Relax and enjoy the sounds of seagulls and feel and smell the Gulf breezes as you have your lunch or dinner. It's fun to sit out on the deck under the umbrellas and watch people as they walk or skate by along the beach walk promenade.
Some of the most popular menu items are the Super Grouper sandwich, tropical chicken walnut salad, BBQ bacon-wrapped scallops, and grouper egg rolls.
Frenchy's Saltwater Cafe
The Saltwater Cafe is located at 419 Poinsettia Ave on the eastern side of Clearwater Beach. It is just south of the Chamber of Commerce. This location offers open-air dining inside and outside on the wrap around patio. They are the originator of the Grouper Rueben sandwich and other unique items such as octopus dishes, conch fritters, buffalo shrimp and more.
We hope you enjoyed this blog about the different Frenchys Clearwater Beach locations! If you have any questions, or if we can help in any way, please give us a call at (727) 619-2799 or use the handy contact form below.
Some Video Highlights of Frenchy's Restaurants Frenchy's Rockaway Grill
Here are some quick scenes of one of our favorite beachfront restaurants on Clearwater Beach. Frenchy's Rockaway Grill is one of the most popular restaurants on Clearwater Beach. Is located right on the sandy shores of Clearwater Beach with great views, great food, and wonderful atmosphere.
Beachfront Condos On Clearwater Beach
Waterfront Condos Clearwater Beach
Call us at (727) 619-2799 for questions or help, or use the form below to email us.