Clearwater Point Condo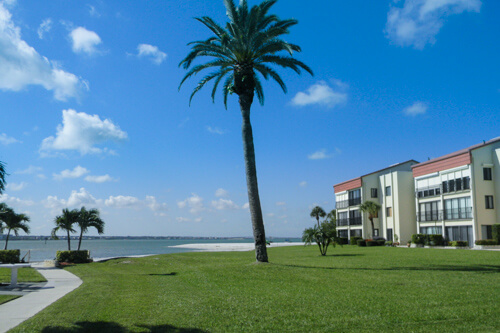 The Clearwater Point waterfront condos are located on the southern tip of Clearwater Beach just north of Sand Key. These moderately priced 2 bedroom 2 bath condos are close to all that Clearwater Beach has to offer. With over 400 units in the community, there are usually lots of choices for price, layouts, and views.
Clearwater Point is located on the southeastern tip of Clearwater Beach on Clearwater Pass and Clearwater Harbor. The community has its own semi-private beach area on Clearwater Harbor. Residents love the beach and the beautiful panoramic views of Clearwater Harbor and Clearwater Pass. It's a great location for viewing the water or watching the boats and ships go by as they pass through Clearwater Pass on their way to or from the Gulf of Mexico.
Read More Below...
Clearwater Point Condo Listings
October 4, 2023
Beachfront Condos On Clearwater Beach
Waterfront Condos Clearwater Beach
Clearwater Point Condo Key Information *
Address:
800 Gulfview Blvd, Clearwater Beach FL 33767
and other locations
Name:
Clearwater Point Condos
Views(s):
Clearwater Harbor, Intracoastal
Buildings/Floors:
8 Buildings | 9 Floors | 476 Units
Pets:
No pets
Pool(s):
Heated Pool and Spa
Fitness:
Tennis, Shuffleboard
Maintenance Fees:
$400 to $500 per month
Rental Policy:
3 Month Minimum
Year Built:
1970 to 1980
* All information is subject to change and should be verified by the buyer prior to entering into any purchase contract.
More Information About Clearwater Point Condo
Location
The community is just east of Gulf Blvd on a loop made up of Bayway Blvd, S Gulfview Blvd, and Gulfway Dr. Addresses for some of the most popular buildings are:
| | |
| --- | --- |
| Commodore | 855 Bayway Blvd, Clearwater Beach FL 33767 |
| Sailmaster | 830 Gulfview Blvd, Clearwater Beach FL 33767 |
| Shipmaster | 800 S Gulfview Blvd, Clearwater Beach FL 33767 |
| Yacht House | 851 Bayway Blvd, Clearwater Beach FL 33767 |
What's Nearby?
Clearwater Beach! As you walk west on S Gulfview Blvd you'll start seeing a variety of restaurants and shops almost as soon as you leave Clearwater Point. Shephards Beach Resort is just a half a mile away. Shephards is famous for its entertainment and seafood buffet. The beautiful sandy white beaches and blue waters of Clearwater Beach are just a mile away along the same route. Go north just a little further and you'll reach Pier 60. This is the "hub" of Clearwater Beach with so much to do and see. There are tons of great restaurants, bars, and entertainment spots. You can charter a fishing trip, dolphin cruise, or sunset cruise, or go parasailing. It's fun to just walk around at sunset, or catch a free Sunset Movie in the open.
Sand Key Park is just south of Clearwater Point on Gulf Blvd. They have fishing piers, picnic tables, and a beautiful beach where you can rent beach chairs and umbrellas. The Shoppes on Sand Key is just south of the Park. It has some interesting boutiques, snack shops, and restaurants. Maggie Mae's is a popular breakfast spot with the locals. You can sit inside or on the deck overlooking the harbor. If you like salads, you have got to try the Columbia Restaurant's Original "1905" Salad!
Lifestyle
Residents just love the variety of things to do and see on Clearwater Point. You can just sit and relax by the beautiful heated pool, relax on a chaise lounge, or sit at a table under an umbrella on the spacious pool deck. Want to stick your feet in the sand? It's just steps away on the semi-private beach. Or take a walk and enjoy one of the nearby restaurants, bars, or entertainment spots just steps away. Or spend a day on famous Clearwater Beach or visit Pier 60.
Why People Live in Clearwater Point
It's a beautiful community with a wide variety of condos and townhomes to choose from at a reasonable price for the area. There are beautiful water views, and all of Clearwater Beach is right at your fingertips.
Interested in Clearwater Point or another Clearwater Beach condo?
We are here to help. Give us a call at 727-619-2799 or use our handy
contact form
.