Treasure Island Restaurants
Posted by Rich Kisida on Friday, September 1, 2017 at 11:45 AM
By Rich Kisida / September 1, 2017
Comment
Ricky T's Restaurant, Bar and Live Music
Enjoy live music at Ricky T's. They feature some of Treasure Island and St. Pete's hottest local bands – Kirk Adams and the Honey Badgers, Cornfused, Stormbringer, Pete & Dean, Big Brother, Bus Fulla Monkeys, and of course, the infamous Kevin Toon.
It's a casual, friendly neighborhood bar the the locals enjoy for good food, cold drinks, and great fun and music! They usually have live music Monday through Sunday from 5:30pm until…
They have over 25 huge flat-screen, HD TVs with digital surround sound. You can watch NFL Network, NFL Sunday Ticket, Rays games, NASCAR Sundays, and more!
See the menu at the Ricky T's website. Their location is 10601 Gulf Boulevard, Treasure Island, FL 33706
---
Britt's Coal Fire Pizza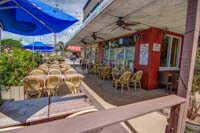 I have another great restaurant for you to try, Britt's Pizza, located at 10709 Gulf Blvd, Treasure Island FL 33706. They have delicious homemade pizza's cooked on their open coal fire, which was really neat to see, as well as pasta's, subs and salads. When I went I dined on the inside, but they also have a front patio to enjoy the breeze, and and the patio is also pup friendly! On Friday's and Saturday's they have live music on their patio, which would be nice to listen to music and enjoy a yummy pizza.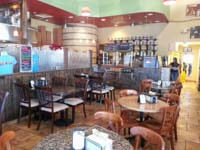 When I went for lunch the other day, my Dad and I split a medium Veggie Pizza and we both had a house salad, which was perfect. The pizza had mushrooms, green peppers, red onions, roasted garlic and calamata olives. The crust was perfect and there was just the right amount of sauce! When I go back, I would love to try the White Pizza, which has a white sauce with mozzarella, romano, ricotta, spinach and tomato!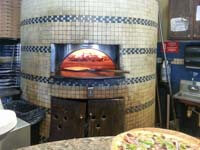 If you like meat, the Mega Meat Pie looks good! It has pepperoni, sausage, bacon and ground beef. Britt's also has daily Happy Hour from 11am-6pm, which includes domestic drafts for $1.99 and Import and IPA Drafts are $2.99! Nothing better to drink with a pizza than a nice cold beer! If you like to end your meal with a dessert like I do, they have cheesecake, tiramisu, cannoli's and ice cream. ( Which I will have to get the next time I go)
If you would like to enjoy Britt's from you own home, don't worry! They deliver! Just give them a call and they will let you know if they deliver to your area. If you have a party or get together coming up, Britt's also caters!
Next time you are in Treasure Island, check out Britt's Pizza, the restaurant that I think has the BEST coal fire pizza in town!
---
VIP Lounge & Mexican Restaurant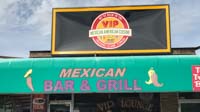 We visited the VIP Lounge & Mexican Restaurant in Treasure Island last night and had a great meal and a wonderful time.
This Mexican-American styled restaurant and lounge serves large portions of Mexican food, which includes a long list of appetizers as well as meals. They also have a full bar with drinks made by hand by experienced bartenders.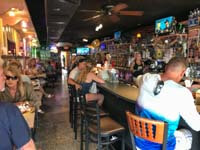 It's a loud and lively place with both indoor and outdoor seating on the back patio. The staff is friendly and alert and very attentive. Cindy had tacos she really liked, and I had the fajitas. They came steaming to the table, still sizzling, and were absolutely delicious. The margaritas run on the strong side but were very tasty.
If you sit outside on the back patio, you can actually hear the music from Ricky T's next door. There is picnic table seating with umbrellas in a fairly small enclosed patio.
Is a popular spot for locals and visitors alike. We got there about 4:30 on a Sunday afternoon and it was already hopping. So get there early or plan to wait for a while before you're seated.
The restaurant is located at 10625 Gulf Blvd. in Treasure Island Florida. Visit their website for more information. Take a quick look inside in the video below.
Video of VIP Lounge & Mexican Restaurant