Starting Design Plans
Posted by Rich Kisida on Thursday, September 21, 2017 at 9:58 AM
By Rich Kisida / September 21, 2017
Comment
Where Should You Start Your Design Plan?
(Provided by Debbie Wallace of Debbie Wallace Designs)
The day has finally come. You are in your new home your boxes are all unpacked, you have everything organized and you have your furniture pieces in place that you decided to keep. Now for the fun part! It's time to execute your design plan. If you are in a position to hire a professional Interior Designer we can help you achieve your design dreams!! An added bonus is that we can often save you money by preventing costly mistakes. If it's just not in your budget to hire a professional, the following will help you wade through all of the decisions you will need to make.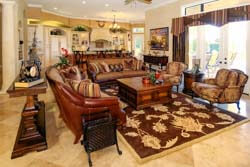 Almost every Interior Designer will tell you to work from the bottom up, so the first thing you should address is your flooring. If what you have isn't what you want it is best to address this first. It's much easier to change flooring before there is a house full of furniture. Flooring will set the tone for everything else you are trying accomplish. The color and style of your flooring will help drive the design plan. Make sure you select flooring appropriate to your family needs. For example, smooth dark wood flooring and large dogs don't mix. There nails will leave scratch marks. Lighter textured wood or tile may be a better option. Carpeting while relatively inexpensive is not great with young children. It may be cost effective to start with but you will be replacing it much sooner. So hard surfaces such as tile, laminate, or wood will last much longer and will cost less in the long run. You may need to wait a little and save for the right choice.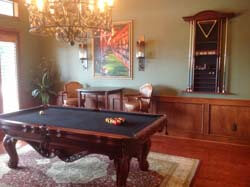 The next thing you might need to do is prioritize what rooms you want to concentrate on first. As we mentioned earlier, most of us can't afford to do everything all at once. So decide based on your family's needs what you should do first. Maybe your children aren't adjusting to the move, new school and friends so you may want to start with their room to help them feel more comfortable. Make them part of the process if possible. Then they can put their stamp on the new home. Maybe the Living room or Family room that everyone sees is where you feel you need to start. Of course where you choose to begin is up to you!
Once the flooring is in place and you are ready to decorate, it is very important to finish each room before you move on to the next. So let's say your Family Room is your priority if you can finish that you will feel a sense of accomplishment that at least one room is just the way you want it. Then you and your family will be able to sit back, relax and enjoy your new space. If you try to do a little in each room it may be quite a while before you will feel like anything has been done. This often stops people from moving forward because they then feel overwhelmed and end up doing nothing more.
As you tackle the design of each room the following hints will help. You have the flooring selected and in place, next work on the anchor pieces like the sofa, chairs, dining table, or bed. Make sure these are the style and size appropriate for the design and size of your room. Now get the color scheme in place, select your fabrics, bedding and then the paint scheme. As soon as you have done all of this you are ready to fill in with smaller furniture pieces, artwork, lamps, and accessories. Please don't forget the accessories!!!! Without them your home will look plain Jane and incomplete. Using these tools you will be successful in completing your dream room and be ready to enjoy it and plan your next design project. Eventually, using this formula you will achieve your new dream home!
Office 727-498-0631
Cell 727-415-9541
Email [email protected]
Web DebbieWallaceDesigns.com