St Petersburg Restaurants
Posted by Rich Kisida on Saturday, September 2, 2017 at 10:56 AM
By Rich Kisida / September 2, 2017
Comment
The Fish Bol Restaurant in Pinellas Park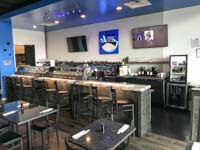 Under new management and newly decorated in 2018. Want to try something a little different for lunch or dinner? The Fish Bol, yes, that is spelled correctly :-), offers a wide variety of sushi dishes, bento boxes, and noodle bowls. They also have a drink menu with a variety of beers, wines, and saki.
The day we went, my daughter had a bento box with a selection of tuna, salmon, yellowtail snapper, four California rolls, pot stickers, and a ginger salad. She said it was all just really great. I had a noodle bowl with tempura vegetables. The broth was hot and tasty without being too salty, and it was just chock-full of noodles and vegetables. Delicious. We'll definitely be back! Here's a quick video.
The Fish Bol is located at 4699 Park Blvd N, Pinellas Park, FL 33781 just west of Hwy 19.
Rain Japanese Sushi Bar & Thai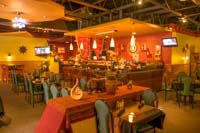 The only problem I have with Rain Sushi is deciding on whether to get Sushi or Thai! If you like either, you are in for a treat! Yesterday when we went for lunch. We were talking to the waitress and she shared with us that the owners started Rain about 4 years ago. It's a husband and wife duo, and they actually got married inside the restaurant and named the establishment after their daughter. Just recently the couple was recognized as the 23rd fasted growing business led by an FSU Alumni. This is definitely a restaurant you want to try!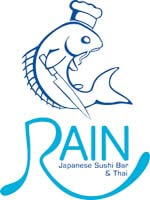 Rain has some of the best sushi I have ever had. Right now I can only have cooked sushi since I am pregnant, and I was surprised with how much I still had to choose from. Our waitress was nice enough to high light all the sushi that was cooked, and I still had at least 10 to choose from. My favorite is the "Party Pooper." It is fried shrimp, and cream cheese topped with avocado and teriyaki sauce. I also really like the "Big Fat Liar," which was a California roll topped with baked krab, shrimp, spicy mayo and scallions.
If Thai food is what you like, their Red Curry with shrimp or vegetable is wonderful. It has shrimp, bamboo shoots, bell peppers, eggplants, green beans snow peas, and basil leaves. The Thai basil is also good. You choose your meat and its accompanied by bell peppers, green beans, onions, scallions, mushrooms and snow peas. Lastly, I also love the Pad Thai with shrimp which is combined with rice noodles, eggs, scallions, peanuts, and bean sprouts.
Check out Rain Sushi, you will not be disappointed! Rain has lunch and dinner specials that you can view on their Facebook page: https://www.facebook.com/RainSushiBarANDThai. They also have a website at RainSushi.com.
Rain Sushi is located at 5267 Park Street N, St Petersburg FL 33709
---
Doe Doe's Breakfast and Lunch Diner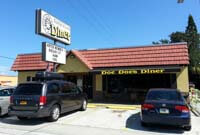 Doe Doe's Diner, located at 9395 Bay Pines Blvd, St Petersburg FL 33708, is one of my favorite places to go to for Breakfast. Breakfast is served all day, and they always have daily specials. They have been voted the #1 Breakfast restaurant for the last three years by Tampa Bay Newspapers, so you know it has to be good! Dodo's also serves lunch items, and they all look fantastic, but I have yet to try any myself. I am stuck on the breakfast because it is so good!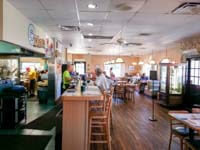 When I go, I usually get the waffle, with one egg and your choice of sausage or bacon. I always get the bacon! I have also had their pancakes, cheese grits, sausage and gravy, French toast, and omelets, and I have not been disappointed yet! My family loves their hash browns and coffee! I am sure everything on their menu is just as good, but these are the few items I have tried.
One day I will try their lunch menu! They have a variety of homemade soups that look really good. Each day is a different soup, so you'll have a surprise waiting when you get there to see what it is for the day! My friend loves their Angus burger and homemade meatloaf, which is on my list of things to try. Oh, and I can't forget the desserts! There is always a display of the pies they have for the day, which also looks very tasty!
Go try Doe Doe's Breakfast and Lunch Diner! It is a great affordable place with yummy food and wonderful service. They are open 6 AM - 2:30 PM Mon-Friday, and 6 AM- 2:00 PM on Saturday and Sunday.
Address: 9395 Bay Pines Blvd, St. Petersburg, FL 33708/p>
---
Tom and Chee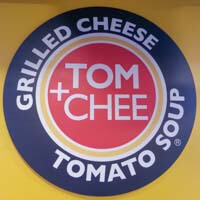 If you like grilled cheese sandwiches and tomato soup, you can't go wrong with Tom and Chee. I first heard about this restaurant on ABC's show Shark Tank, which is a show where entrepreneurs present their idea's to a panel of potential investors which are the "sharks". Drew Quackenbush and Corey Ward, the owners of Tom and Chee left the Shark Tank show elated when two sharks invested a total of $600,00 into their business.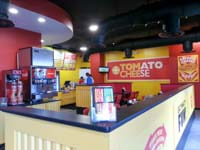 We now have a Tom and Chee close to us located at 6802 22nd Avenue North, St Petersburg, FL 33710. The menu was a little overwhelming but the staff were super friendly and guided us through it. There are several specialty grill cheeses to choose from, or you can create your own. I had the Swiss & Shroom Grilled Cheese with Chunky Tomato Basil Soup. The sandwich was super good and very cheesy and the soup was just "Ok"... It was a tad bit on the sweet side. We also tried the Tom and Chee grilled cheese which is diced tomatoes, garlic seasoning, mozzarella, and cheddar on your choice of bread and the BLT+Chee which is bacon, lettuce, tomato and cheese and they were both quite tasty.
My family also had the creamy tomato basil soup with their sandwiches and they said it was too salty for them and that they would try a different soup the next time they went. But their sandwiches were really tasty too.
One thing I didn't try but I will the next time I go back is the Grilled Cheese Donuts. A customer that sat next to me ordered one, and it smelled and looked AMAZING! They got the S'More, which is chocolate pieces, graham crackers, marshmallow's, and mascarpone, all on a glazed donut, then toasted. Mmmmmmm!
If you would like to check out their menu go to their website at: http://www.tomandchee.com/menu/
---
Italian Touch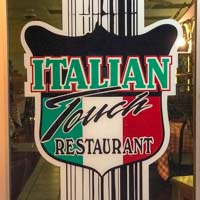 We had a really nice dinner the other night at the Italian Touch Restaurant in St. Petersburg. It's located just north of Tyrone Boulevard and Park Street off of 46 Street at 8211 46th Ave N, St. Petersburg, FL 33709. It's a local place which has been in business for over 26 years. It is a family owned and run by a mother and her son. You can definitely tell they take a lot of pride in serving good food with great service.
It is a very unpretentious place, so if you're expecting fine dining, this might not be the best choice. But the food is really great and reasonably priced. Menu choices include a nice selection of pasta dishes, baked dishes, chicken, seafood, and veal. If you want to be lighter they also have submarines and pizzas. They serve wine and beer but no mixed drinks.
The dessert selections are cannoli, spumoni, cheesecake and tiramisu. We got the tiramisu and it was fabulous ... some of the best we've had. Very creamy, moist and light with great flavors. Check it out on the Italian Touch Restaurant Website.
---