Market Update For St Pete Beach Condos 2021
Posted by Jami Kisida McAfee on Thursday, February 3, 2022 at 9:28 AM
By Jami Kisida McAfee / February 3, 2022
Comment
Overview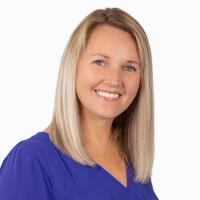 As was the case in a lot of our Gulf Coast markets, 2021 was a record-breaking year for St Pete Beach condo sales. There were 321 condo sales for St Pete beach in 2021 at an average price of over $470,000. This was the most active year in the last 10 years. Below is an overview of what we think are the important aspects of what happened in the St Pete Beach market. In our summary at the end, we also attempt to give you an idea of what this might mean to you as a condo buyer.
Number of Sales
There were a record-breaking 321 condo sales in St Pete Beach in 2021. This is 40% higher than the prior 9-year average of 228 condos sold per year. This is 15% higher than 2020 when 280 condos were so sold. There has been much discussion about the extremely low inventory of condos in our area which is absolutely true. But as you can see from the graph the low inventory is a function of extremely high buyer demand not lack of sellers.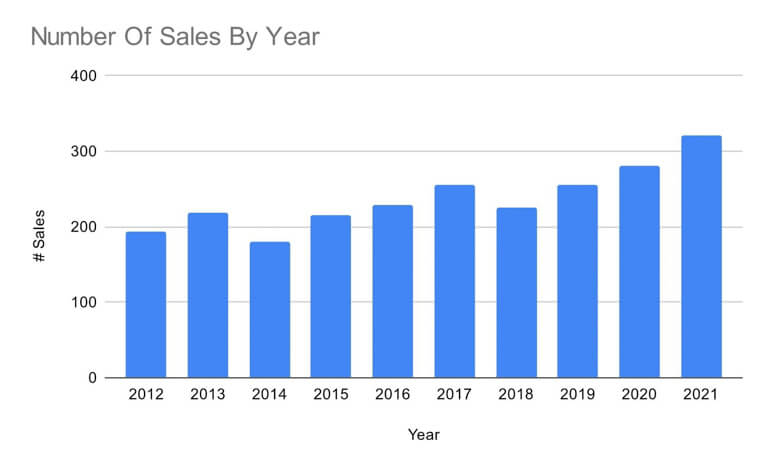 Average Sale Price By Year
The average sale price for a condo on St Pete Beach has risen dramatically from about $266,000 in 2012 to over $470,000 in 2021. This represents over a 6% annual compounded increase in condo prices over the past 10 years. As you can see on the graph, recent increases in price are more dramatic than ever.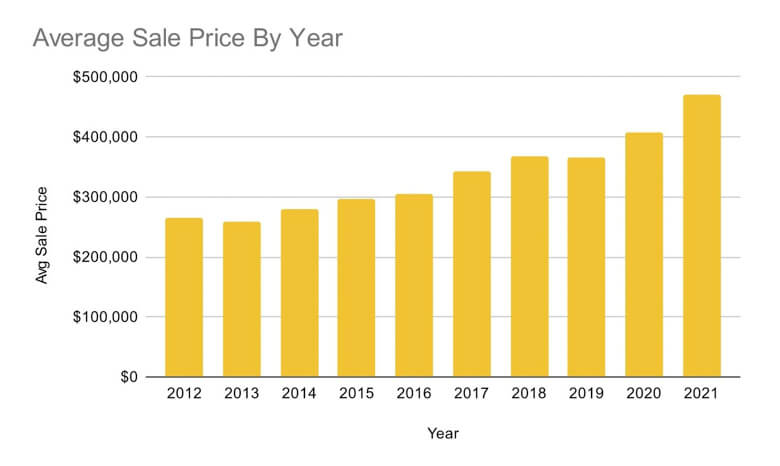 One of the implications of this dramatic rise in prices is that Competitive Market Assessments that base offers only on "comparable" sales are not really really good tools to make offers in this market. This kind of analysis points to where the target was in the past, not where it is now, or where it is going.
Days On Market (DOM)
This high level of buyer demand has also accelerated the timeline for condos moving from being listed for sale to when they are under contract. The average days on market in 2021 for condos on St Pete Beach dropped to just 31 days or about a month. This is just one-third of the average time of 107 days for the prior nine years!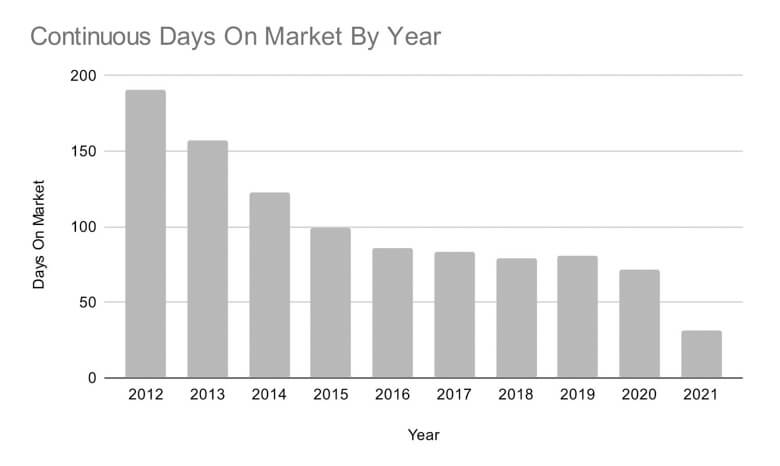 Sale Price To List Price
Sale Price to List Price was a staggering 99.1%. Another way to say this is that the contract price was almost equal to the seller's list price. This demonstrates that sellers are not negotiating much, if at all, and are firmly rejecting lowball offers.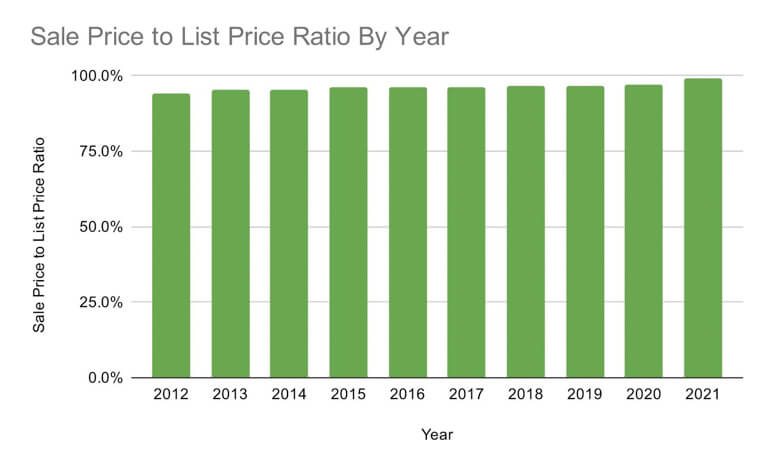 Price Vs Number Of Bedrooms
As shown in the graph below, condo sale prices varied dramatically by the number of bedrooms. Two-bedroom condos have long been the most popular configuration on St Pete Beach followed by one-bedroom units. Two-bedroom units had an average sale price of $475,000 in 2021. This was about twice the price of the average one-bedroom unit and about half of the cost of a three-bedroom condo which averaged almost $900,000.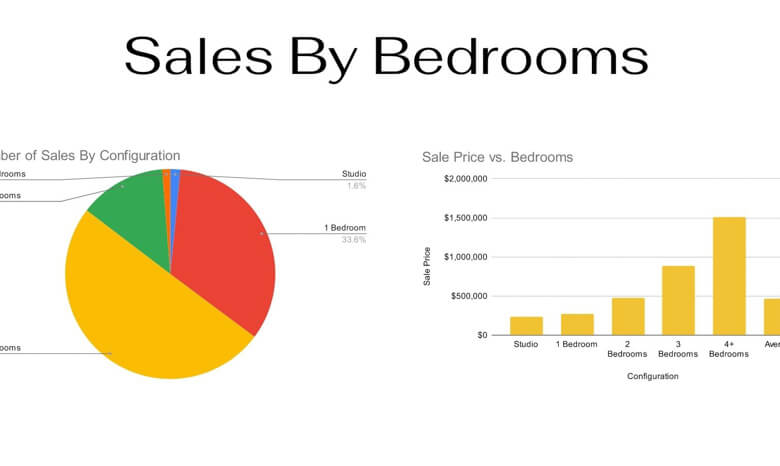 What This Means To Condo Buyers
First, let's address some common questions we often hear:
"Does low inventory mean there is nothing for sale?"
As challenging as the low inventory is for condo buyers, it does not mean there is nothing for sale. As we saw above, there were a record number of condo sales in 2021. The issue is we just have record levels of competition for what is for sale!
"I'll make a low offer and negotiate ..."
While many buyers have done this successfully in the past, unfortunately, this strategy no longer works! Sellers know there is high demand, and as we saw in the Days On Market, and Sale Price To List Price sections, the numbers bear this out. Sellers will only consider the most aggressive and serious offers.
"I'll find something first, then I'll get the paperwork ready ..."
Again, this strategy no longer works! Condos are selling very quickly, and if you are not ready, someone else will be and they will get the condo. As we mentioned above, sellers will only consider the most aggressive offers. Price and Terms matter.
So How Do I Win?
Based on dozens of closed sales in this new market by our team, these are the steps we think will give you the best chance of success:
Work With An Experienced/Knowledgeable Agent - More than ever, this is the time to work with an experienced and knowledgeable real estate agent. One that knows the ropes and can help you prepare and negotiate a successful offer.
Do Your Homework/Be Prepared - Invest the time to prepare for your condo shopping journey. An experienced agent can help you prepare and warn you about potential pitfalls.
Pay Cash or Use A Respected Local Lender - Sellers want to minimize contingencies and avoid pitfalls. If you need to use a lender, you are almost always better off with a local lender. It is our experience that out-of-town banks just do not know or understand Florida condos and local issues. We've seen this lead to lengthy delays, or worse yet, failed deals. Again, a knowledgeable local agent can help you choose a local lender that has local credibility and knowledge to close a condo loan.
React Quickly - Things are moving quickly in our market and you'll need to be available and willing to more quickly to be successful.
Be Prepared To Make A Winning Offer - When you find that dream condo you, with the support of your agent, need to be prepared to make an aggressive, winning offer.
Top Selling Condo Communities In 2021
Below is a list of the top-selling Condos on St Pete Beach in 2021.
| | | | |
| --- | --- | --- | --- |
| Rank | Condo Community | 2021 Sales | Avg Price |
| 1 | Three Palms Pointe Condo | 24 | $427,721 |
| 2 | Jacaranda Beach Villas Condo | 24 | $340,708 |
| 3 | Boca Shores Condo | 23 | $270,815 |
| 4 | Sylvette Condo | 18 | $254,148 |
| 5 | Silver Sands Beach & Racquet Club | 18 | $686,467 |
| 6 | Regency West Apts Condo | 14 | $317,964 |
| 7 | Gulf Winds Apts Condo | 12 | $322,542 |
| 8 | Friendly Native Beach Resort | 9 | $350,333 |
| 9 | Constellation The Condo | 9 | $528,667 |
| 10 | Seamark Condo | 8 | $515,404 |
If you are buying or selling a condo on St Pete Beach or one of our other beautiful beaches, we wish you good luck on your adventure! Please give us a call at 727-291-4164 if we can help in any way, or if you just have some questions :-)
Jami Kisida McAfee
727-291-4164
Coastal Properties Group International