Organize & Plan
Posted by Rich Kisida on Wednesday, September 20, 2017 at 3:50 PM
By Rich Kisida / September 20, 2017
Comment
Interior Design Via Organization And Planning
(Provided by Debbie Wallace of Debbie Wallace Designs)
You have now settled in to your new home and there is still so much to do. You wonder how "will I ever finish unpacking and making my new home look just the way I want it to!" If you are like most of us you probably lived in your prior residence for years, so don't pressure yourself to finish it all in the first few weeks or months. If you sorted and discarded things before you moved the process of organizing is much easier. Also, it probably isn't realistic to think your design ideas will be completed immediately either. So, as we will discuss, the next few steps you take in this process are crucial.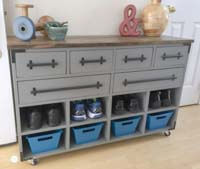 We are going to look at this from two angles first from the organizational standpoint and then from the design aspect. What does organization have to do with good Interior Design you ask? The short answer, have you ever seen an attractive interior design plan with clutter? There are little tricks you can add to keep your home attractive and clutter-free. So, this month we will tackle the organization and next month the integration of your new design plan.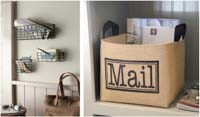 Organization comes naturally to some, but I have learned through years of working with clients not everyone can accomplish it without some suggestions. When it comes to organization, the key is everything needs a home. For example, most of us usually have a stack of unopened mail somewhere, or a pile of shoes near the entry door, or my personal favorite multiple remote controls laying on the coffee table. Things like these are easily remedied by having receptacles to store them in. An attractive basket to hold unopened mail, a shoe cubby near the entry door, or a decorative box on the cocktail table for the remotes. That's the easy part, the hard part of course is getting your family to use them! As you unpack it's better to create the organization then, instead of waiting till later and just shoving it in a drawer or closet. This may mean you will look at an unpacked box for a little longer until you find the right receptacle, but it's worth it in the long run.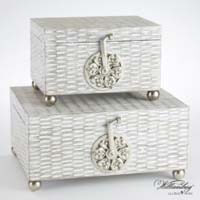 Most people never go back and create organization after they have settled in. I bet when you moved there were probably things you found in closets and drawers that were never used and were still there from when you moved in. So, as you put things away decide if you really need them. Are they worth storing again never to be noticed till your next move? This editing process will help you keep your home clutter free. After all, each home only has just so much storage space and we both know you are going to accumulate more! ?:-) ? So if your closets and drawers start out full, there is nowhere for new things to go. My rule is as I buy something new I donate something old. If it isn't a keepsake or I haven't used it in the last few years I probably don't need it.
Well now that you are no longer looking at those dreaded brown boxes anymore enjoy your accomplishments. Now comes the fun part, executing your Design plan! Can't wait to share my ideas on this with you next month.
Debbie?
Office 727-498-0631
Cell 727-415-9541
Email [email protected]
Web www.DebbieWallaceDesigns.com