Old to New
Posted by Rich Kisida on Thursday, September 21, 2017 at 9:38 AM
By Rich Kisida / September 21, 2017
Comment
Incorporating Your Furniture and Treasures in to Your New Home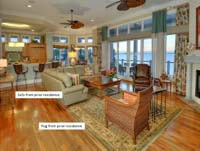 The time has finally arrived, you are going to move into your new home! You are so excited, yet how do you decide what furniture to keep and what should you replace? You also have a few items like your "Grandmothers needlepoint" that you just aren't sure are going to fit in your new homes design plan. So many decisions to make all at once and you don't want to discard your treasures, but you also don't want to feel like you are bringing your "old" house into your new one. How can I sort through all of this, you ask yourself?

It really isn't as hard as it seems! I have been able to guide hundreds of clients through the process over the years. The first few things you must decide are: what is my budget for replacing items, do the furniture pieces I want to bring fit in the new space, do they work with the design plan for my new home, and what are the treasures I just have to keep.

To begin with, if you aren't changing your style, the process is much easier. If it fits your new home it goes with you. It gets a little more difficult if you plan on transitioning from one style to another. Most people can't afford to get rid of all their furniture and accessories and start over. So, let's say you are changing from traditional to a coastal look, how do you decide what to bring?

It is always a good idea, if financially possible, to change your anchor pieces if possible. An interior designer can be a tremendous asset as you make these decisions. After all they don't have any attachments to your things, so they can give you an objective opinion and keep you from making mistakes. For instance, if you have a Queen Ann dining set, it probably isn't going to work very well in your new coastal design plan, or your sofa and chairs are the wrong color maybe they should be changed. Even if you can't afford to replace the whole living room, starting with a few key pieces will make it much easier to transition to your new style while still maintaining your homes appearance during the process of transition. Even though we all like immediate gratification our budget doesn't always allow for that. Better to take your time and do it right. Mistakes are expensive! Below are three examples of design plans where furniture has been used from the client's previous residence.
Table and Side Chairs from Prior Residence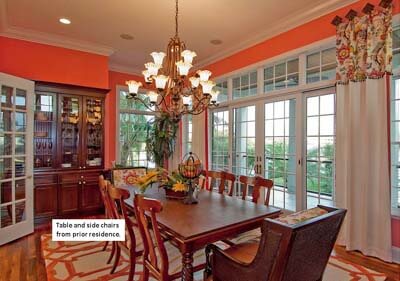 Buffet from Prior Residence
Sofa and Rug From Prior Residence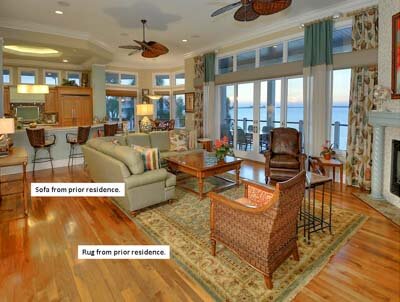 As far as "Grandma's needlepoint" just remember it doesn't have to be showcased in your living room. While you treasure all her hard work, it doesn't exactly make the design statement your living room needs. So maybe items such as these can be placed in a secondary bedroom or in a hallway. That way you will still be able to appreciate them without having them disrupt your new design.

Be honest with yourself if you feel like something probably won't look right in your new home you are probably right! Use the move as an opportunity to clean out things you don't need or are just plain tired of looking at. After all you and your new home deserve a fresh start! :-)

Now that you are in your home and have weeded out the things you don't need or want anymore how do you execute your new design plan? Your next few steps are crucial to bringing your plan to life. That's what we will work on in the next article.
Have fun with your fresh start!
Debbie
Debbie Wallace Designs, Inc.
[email protected]
Off: 727-498-0631 / Fax: 727-498-0637
www.debbiewallacedesigns.com
www.facebook.com/pages/Debbie-Wallace-Designs-Inc/198995326892185
www.linkedin.com/pub/debbie-wallace/60/b25/547/
Some Ideas of Old to New!