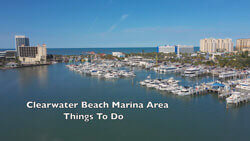 The Clearwater Marina offers access to a variety of boating activities and is home to the finest fishing and charters, sightseeing boats, dinner cruises, dolphin tours, parasailing, and personal watercraft rentals.
It has a pizza shop and a couple of casual dining seafood places with outdoor seating, Crabby's Dockside and the Salt Cracker Fish Camp, which are both pet-friendly.
Yacht Starship is America's first three-diamond rated dining yacht. Currently, Star Ship IV sails out of the Clearwater Beach Marina. Their staff is super friendly, the food is great. They cap off their five-star service by giving a freshly baked cookie as people depart the ship. the Star Lite Majesty is also the other major dinner ship that sails out of the Clearwater Beach Marina.
Captain Memo is the iconic pirate ship you see sailing around Clearwater Beach. Enjoy pirate antics during a two-hour odyssey, including a treasure hunt, face painting, water gun games, stories, and dancing for all ages. The ship is staffed with a spirited crew of pirates. The cruise is about 30 to 40 dollars, and well worth it.
The Little Toot dolphin adventure cruises range from 60 to 90 minutes. You'll get up close and personal with Florida's most playful dolphins because of the way the boat is designed. Sea Screamer is a one-hour narrated speedboat adventure, touring celebrity mansions and historic landmarks on Clearwater's waterfront. They guarantee you'll see dolphins. There's one right there!
Now, if you'd like to see a celebrity dolphin, check out Winter, who starred...