Indian Shores Restaurants
Posted by Rich Kisida on Wednesday, September 6, 2017 at 3:10 PM
By Rich Kisida / September 6, 2017
Comment
Indian Shores Coffee Company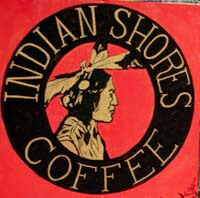 If you are looking for some fresh brewed organic coffee near the beach, this is the place! Indian Shores Coffee Shop is located at 19221 Gulf Blvd Indian Rocks Beach FL 33785 and is a must try! If coffee is not your thing, they also have some delicious food for breakfast and lunch.
When you walk into Indian Shores Coffee Shop it is a relaxed, laid back atmosphere with that wonderful coffee smell. I love the eclectic decor and the staff was super friendly. There are a few places to sit and relax on the inside, as well as a few tables on their outside screened patio. When I had the pleasure of going I enjoyed an Apple muffin, with a glass of orange juice and my father enjoyed a cup of coffee with their muffin special of the day, which was the Maui Morning muffin. Both muffins were wonderful and a nice size, we probably could have split one and been satisfied!
Several things on their menu looked wonderful, and when I go back next time I will definitely try. They have a breakfast sandwich with egg, cheese and your choice of bacon or ham on a chibata bread that sounded good and for lunch they have hot panini sandwiches that looked yummy! I would want to try their chicken, bacon, swiss and ranch panini. Their danishes and muffins are on display by the register, and the blueberry muffin and cinnamon roll looked fabulous. There were several coffee's and lattes to choose from, and I have heard only good things about them. ( I myself am not a coffee drinker) My parents have been there several times, and from the reviews I have read, it's everyones favorite spot to go to on the beach for coffee.
---