Indian Rocks Beach Restaurants
Posted by Rich Kisida on Thursday, September 7, 2017 at 1:56 PM
By Rich Kisida / September 7, 2017
Comment
Keegan's Seafood Grille
Written by Heloise Povey, Indian Rocks Beach / Indian Shores Real Estate Specialist.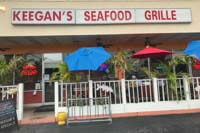 You've decided to come to Indian Rocks Beach, Florida for a day, a week, a month...or a lifetime! Excellent decision #1. With easy access to miles of white sandy beaches and crystal waters of the Gulf of Mexico, Indian Rocks Beach is a wonderful community made up of charming beach cottages, single family homes, and beachfront/waterfront condos. So now you are here...you have decided you want to go out to eat! Excellent decision #2. IRB as it is affectionately referred to by the locals (of which I am one), has an array of fantastic restaurants to suit every palate. There is a saying that if you are looking to eat at a great place…"go where the locals go". And that would mean eating at Keegan's Seafood Grille.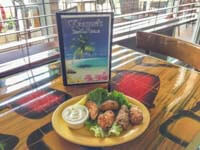 Located in a small shopping strip at the corner of Gulf Blvd and 15th Ave you will find a casual setting, delicious fresh food, friendly staff and consistently great quality service. Known for its fresh seafood catches (you are at the beach of course), Keegan's offers an amazing lunch and dinner menu. From zesty ceviche conch salad or baked artichoke & crabmeat spread, to their famous blackened grouper sandwich, to any one of their fresh catch dinner specials with mouth-watering sauces, you will not be disappointed! And don't worry if someone in your party is a non-seafood lover. There are plenty of menu items for those who prefer non-seafood. The thick and juicy Ultimate Beach Burger has my vote any time! But if you are looking for that one menu item that will blow you away...you have to try the jalapeno poppers! These are not just any old poppers! Large, fresh jalapenos, filled with crabmeat and cream cheese and lightly fried. You will not find better...anywhere. At least not if you ask me! So when you decide to make excellent decision #3 and join the locals for dinner at Keegan's, save me a seat and order me some poppers. I'll be right there!
Heloise
727-515-1418

Keegan's Address: 1519 Gulf Blvd, Indian Rocks Beach, FL 33785
www.keegansseafood.com
---
Slyce Pizza Bar IRB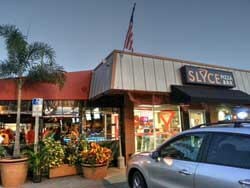 Slyce Pizza Bar is one of our favorite spots on Indian Rocks Beach to share a pizza with friends or family and relax and listen to some live music.
The featured item is, of course, pizza but they also have a selection of appetizers, salads and sandwitches. You can "build your own" or select some very interesting pizzas from the menu.
You have two choices for seating: a large covered open deck outside or inside seating in a very modern air conditioned booth and bar configuration. They have misters outside and there is usually a nice Gulf seabreeze since you are on Indian Rocks Beach, so we almost always sit outside. In the evenings they usually have a local guitar player/singer from about 6 PM till 9 or 10 PM ... check out their website using the link below, and go to the calendar page to see who is playing.
Pizzas include you typical "supreme", "specials" and Chicago Deep Dish but they have a very interesting assortment of choices like Margarita, Roasted Veggie, the Beach Bird, French Dip, Truffle, and Buffalo Chicken. Or try one of the calzones. Our favorite is the Margarita Pizza. It's hard to believe that a simple pizza of tomatoes, light red sauce, olive oil, garlic, basil and mozzarella cheese can be so delicious!
Slyce is located at 311 Gulf Blvd, Indian Rocks Beach, FL 33785 just block south of the Walsingham Road bridge.
Looking for real estate in the Indian Rocks Beach Beach area? Check out the condos for sale in Indian Rocks Beach or see the most recent homes for sale. Or give us a call at 727-619-2799.
Check out the Slyce Website for full menu and entertainment calendar.
We are here to help.
Give us a call at 727-619-2799 or use our handy contact form.
---
Cafe De Paris
Written by Cindy Kisida, Clearwater Beach and Sand Key Specialist.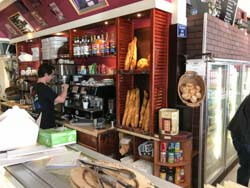 Established in 2003 by Xavier and Valerie De Marchi, Cafe de Paris Bakery is a world-class French bakery (boulangerie/patisserie.) Located in Indian Rocks Beach (near Clearwater and Largo) on Gulf Blvd.
This hidden gem of Indian Rocks Beach is not one to be missed. Serving Breakfast and Lunch Tuesday through Sunday.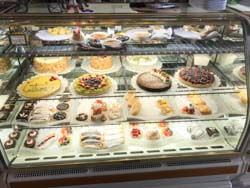 From the moment you enter this cute restaurant, the smell of the fresh baked goods is so yummy. Large display cabinets with everything from croissants, beignets, almond cookies and so much more. This is a full bakery with breads, quiche, sandwiches and lots of sweets. For breakfast or lunch, there is a large selection of crepes, sweet and savory. Coffee lovers have their selection of beverages too.
Go and sit and watch the owner make each crepe by hand with such skill and love. Lots of seating indoor and out for people watching and chatting. Prices are very reasonable and the portions are plentiful. We can not wait to go back and try something new.
We are here to help.
Give us a call at 727-619-2799 or use our handy contact form.
---
Questions or Suggestions?