Food & Dining Delivery Services
Posted by Rich Kisida on Friday, October 2, 2020 at 1:38 PM
By Rich Kisida / October 2, 2020
Comment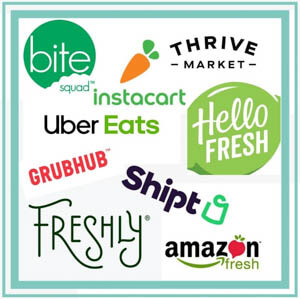 Food delivery services have flourished offering a lot of convenient options. These services can save the busy homeowner a lot of time, and can also expand your options for sampling new gastronomical experiences!
There are a variety of great services at your fingertips delivering groceries, restaurant food, and prepped meals to your doorstep. But which one makes sense for you?
Learn more about these convenient companies and their memberships costs by reading below.
Grocery Delivery Services
Delivery Fee: Starts at $4 for non-members.
Minimum Order: $10
Membership: Optional, includes free delivery on all orders over $35 for $99/year or $10/month.
Instacart is a grocery and goods delivery service where personal shoppers choose your ordered items from the store and then deliver them to your door. If an item is out of stock or questions are needed, your shopper can easily contact you through the Instacart platform about substitutions, etc. They offer some same-day delivery and depending on where you live, can even get an order to you within an hour. Popular stores that participate with Instacart are Publix, Costco, Aldi, Kroger, Safeway, and more.
Delivery Fee: Up to $10
Minimum Order: $30
Membership: Optional, unlimited free delivery for $98/year
Walmart Grocery is obviously not a new name to most but has recently grown its grocery services. Along with its free curbside pickups, it now has over 3,000 stores offering delivery. You can get produce, pre-packaged foods, and basic household goods on your doorstep with just a few clicks online. You can now also join Walmart's new 'Delivery Unlimited" program to save you some money on delivery fees.
Delivery Fee: $7 for orders below $35
Minimum Order: $35
Membership: $99/year or $14/month
Shipt is a grocery delivery service available in over 200 cities, including the Greater Tampa Bay. They have an exclusive agreement with Target, but you can also find popular stores like Publix, Winn Dixie, Costco, Bed Bath and Beyond, and CVS on their list as well. Personal shoppers can be available for delivery as long as a store is open. Even late-night runs at 24/7 locations!
Delivery Fee: $10 for orders below $35
Minimum Order: $35 for free delivery in most locations
Membership: Free for Amazon Prime members.
AmazonFresh is currently only available to Amazon Prime members. With membership, you will have access to a variety of fresh produce, packaged foods, and more through Amazon and their huge digital empire. Most products come from Whole Foods stores, but AmazonFresh has also partnered with local retailers and supermarkets in cities they operate in.
Delivery Fee: Included with membership.
Minimum Order: $49
Membership: $59 annually or $9.95 each month.
Thrive is a delivery service with a strong focus on healthy options and great attention to those with dietary restrictions. They have options for keto, paleo, and vegan routines and prides themselves on organic products. They also strive for carbon-neutral delivery and keeping costs affordable. There is an app or online page to easily order off Thrive.
Meal Delivery Services
Delivery Fee: About $7.99/box. Dependant on meal plan.
Membership: Meals start at $7.95/serving. Can skip delivery dates whenever.
HelloFresh is a wonderful meal delivery service bringing fresh packaged ingredients with step-by-step cooking instructions to your home. Pricing is based on the meal plan and chosen recipes but you can find meals starting at. There is the Classic Plan, the Veggie Plan, the Family Plan, and the Low-Calorie Plan ranging from $7.49 to $10.99/ serving. Within each plan, you can choose the number of servings of 2 or 4 and either 2, 3, or 4 meals per week. Hello Fresh also offers great flexibility with over 20 meals to choose from and options to skip your delivery if you don't see anything you like on the menu that week.
Delivery Fee: Free for orders over $40. Dependant on the membership plan
Membership: Meals start at $6.95/serving. Can customize, skip and pause at any time.
From vegetarian, gluten/wheat-free, nut-free, etc, Home Chef has meal kits that fit all sorts of diets and allergies. They have a strong focus on sustainable, and healthy organic ingredients that pack a big flavor. You can choose between 20+ different meal choices weekly and have them delivered to your doorstep in eco-friendly packaging. You'll be given easy colored-coded directions, fresh non-GMO ingredients, and have a healthy meal cooked up in about 30 minutes.
Delivery Fee: Depending on where you live and meals ordered.
Membership: Meals start at $8.49/serving and change between meal plans. (4,6,10,12 meals/week)
Freshly brings you chilled (not frozen), fully cooked chef-prepared meals right your front door. They feature a range of high quality, fresh ingredients, and offer over 30+ meal options weekly. To prepare your meal - you simply heat up the container for just a few minutes in the microwave. You can mix and match meals off a variety of different menu categories - including Feel-better foods, Take-Out twists, and Whole Comfort. Freshly nutritionists and chefs also make sure to avoid using any artificial ingredients, chemical preservatives, or highly processed sugars in their meals too.
Restaurant Delivery Services
Delivery fees: Varies with restaurant and distance.
Membership: Free. Eats Pass for $9.99/month gets you free delivery and 5% discounts on orders over $15
Uber, commonly known for its rideshare services, has branched out and entered the food delivery industry. The UberEats program can be found in over 320,000 restaurants worldwide and brings you restaurant favorites delivered quickly to your door. The company markets 30min or less delivery times and you can easily track your order in real time on their free app. Your Uber Eats profile will remember your frequent restaurant choices and organize your search page based on those favorites. You can also search based on the most popular choices, the highest rating, price range, delivery time, delivery fee, and dietary needs.
Delivery fees: Varies with restaurant and distance.
Membership: Free. Bite Squad Unlimited offers free deliveries from restaurants in a 7-mile radius for $9.99/month
Bite Squad is one of the smaller delivery services and currently only in 80 cities. They are quickly growing and have partnered with many great restaurants we know and love, like Subway and Chik-Fil-A. Their app and website platform are very user friendly and are always offering promotions and discounts. You can find your next meal by searching with their convenient search bar, category list, or just simply reorder past favorites with a click of a button. You can now join their Unlimited program for $9.99/month and get endless free deliveries within a 7mile radius of your location.
Delivery fees: Varies with restaurant and distance.
Membership: Free. Grubhub+ program for $9.99/month to get rewards, unlimited free delivery on orders over $12 and donation match to No Kid Hungry.
Found in 4,000 US and London cities and partnered with over 140,000 restaurants - Grubhub is another convenient delivery service for your local restaurant meals. You can order online or through their easy to use the app and have your latest craving brought to your home. You can search through participating restaurants by cuisine type, menu item, price, ratings, and more to find exactly what you're looking for. Grubhub offers a great free Perks program as well - providing daily coupons, promotions, and ways to earn free food through loyalty orders.
Delivery Fees: Vary by restaurant.
Membership: Free. DashPass gets your free delivery and discounted service fees for $9.99/month.
DoorDash stands as one of the larger and more popular delivery services currently available in 4,000 cities worldwide. With over 310,000 participating restaurants on their platform - you will surely find something to satisfy your hunger. Some big National Partners they feature are Cheesecake Factory, Chipotle, and McDonald's. You can search through the many restaurants by star rating, vegetarian options, menu price, etc. You can also now join their DashPass program for $9.99/month to get free delivery and lower your service fees on each order.