Clearwater Beach Condo Trends
Posted by Rich Kisida on Monday, February 18, 2019 at 12:09 PM
By Rich Kisida / February 18, 2019
Comment
Clearwater Beach Condo Trends 2018 Overview
2018 was another banner year for condo sales on Clearwater Beach with 445 condos sold. This is higher than the 437 sales in 2017, and also about 20% higher than the historical average. The average sale price was $539,000. Condos and townhomes represented 86% of the property sales in Clearwater Beach in 2018 with single-family homes at only about 14% of the market.
Sales by Area
The most sales were in Sand Key with 40% of the sales, and Clearwater Beach Proper with 35% of the sales. Island Estates had 108 condo sales or about a quarter of the condo sales volume.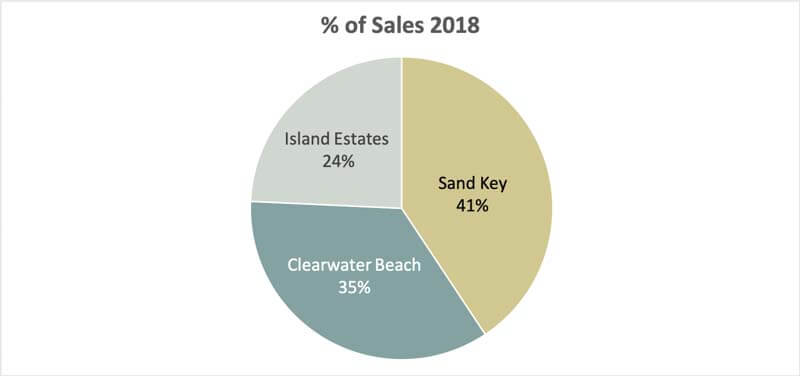 Clearwater Beach Condo Sales Trends by Year
The average sale price for a condo on Clearwater Beach in 2018 was up 4% over the 2017 average of $517,000. The beachfront condos had the highest average sale price at $660,000 with Intracoastal condos averaging about a 25% less expensive at $482,000.

How Long Did It Take to Sell?
The average time on market for a Clearwater Beach condo in 2018 was a very low 127 days or a little over 4 months. This is a 6 year low, with the next lowest point 130 days in 2017. This is indicative of the sustained high demand for beach area condos in our market.

Sales Price vs. List Price
With continued strong demand and low inventory, the sale price in 2018 was 96% of the list price. "Lowball" offers are not being accepted in today's market and, in fact, may jeopardize your chances of being taken seriously later.

Have a Question? We are here to help.
Give us a call at
727-619-2799
or use our handy
contact form
.
Top Selling Clearwater Beach Condo Communities
| | | | |
| --- | --- | --- | --- |
| Rank | Condo Community | 2018 Sales | Average Price |
| 1 | REGATTA BEACH CLUB | 30 | $316,100 |
| 2 | SAND KEY CONDO-SOUTH BEACH | 27 | $491,211 |
| 3 | CLEARWATER POINT | 25 | $310,236 |
| 4 | ULTIMAR | 25 | $797,696 |
| 5 | BELLE HARBOR | 20 | $897,438 |
| 6 | DANS ISLAND ON SAND KEY | 17 | $632,369 |
| 7 | ISLAND WALK | 15 | $303,094 |
| 8 | ISLE OF SAND KEY | 11 | $383,945 |
| 9 | MANDALAY BEACH CLUB | 11 | $958,523 |
| 10 | 440 WEST | 10 | $448,200 |
| 11 | CRESCENT BEACH CLUB | 10 | $680,150 |
| 12 | PELICAN POINTE | 10 | $170,800 |
Contact a Clearwater Beach Expert