Where Should You Start Your Design Plan?
(Provided by Debbie Wallace of Debbie Wallace Designs)
The day has finally come. You are in your new home your boxes are all unpacked, you have everything organized and you have your furniture pieces in place that you decided to keep. Now for the fun part! It's time to execute your design plan. If you are in a position to hire a professional Interior Designer we can help you achieve your design dreams!! An added bonus is that we can often save you money by preventing costly mistakes. If it's just not in your budget to hire a professional, the following will help you wade through all of the decisions you will need to make.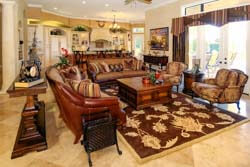 Almost every Interior Designer will tell you to work from the bottom up, so the first thing you should address is your flooring. If what you have isn't what you want it is best to address this first. It's much easier to change flooring before there is a house full of furniture. Flooring will set the tone for everything else you are trying accomplish. The color and style of your flooring will help drive the design plan. Make sure you select flooring appropriate to your family needs. For example, smooth dark wood flooring and large dogs don't mix. There nails will leave scratch marks. Lighter textured wood or tile may be a better option. Carpeting while relatively inexpensive is not great with young children. It may be cost effective to start with but you will be replacing it much sooner. So hard surfaces such as tile, laminate, or wood will last much longer and will cost less in the long run. You may...