---
Quicklinks: Overview | Real Estate | Cities | Neighborhoods | To Do | Top Of Page Δ
Overview of Anna Maria Island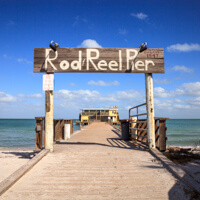 Enjoy a taste of Old Florida on Anna Maria Island. Anna Maria Island is the northernmost island on a chain of barrier islands off Florida's Gulf Coast just west of Bradenton in Manatee County. It is south of popular St Pete Beach and north of Longboat Key. With a charming, laid-back island atmosphere, it is a popular vacation destination. But it is also a popular spot for a second home or a new primary residence. As you will learn below, it is a place where you can enjoy beautiful beaches, great restaurants, boutique shopping, and lots of outdoor activities.
Residents love the tropical feel of the island and the laid-back lifestyle. Parking is limited at some of the most popular spots so you'll often see residents in golf carts or walking for shorter excursions. There is also a very convenient trolly system available to residents and visitors.
Anna Maria stretches about 7 miles from the northern tip of the Manatee County barrier islands down to Longboat Key. The white sandy beaches on the west side of the island face the Gulf of Mexico. The eastern shores face Tampa Bay and Anna Maria Sound. From north to south, the cities on Anna Maria Island are Anna Maria, Holmes Beach, and Bradenton Beach.
---
Quicklinks: Overview | Real Estate | Cities | Neighborhoods | To Do | Top Of Page Δ
Anna Maria Island Real Estate
Unlike most other Florida Gulf Coast communities, Anna Maria Island is dominated by single-family homes rather than condominiums. Almost 80% percent of Anna Maria real estate for sale is single-family homes and only about 5% are condos and 5% percent duplexes.
Typical houses for sale on Anna Marie Island are 3 bedroom 3 bath layouts with about 2,000 square feet of living space. But sizes vary greatly ranging from 2 bedrooms 2 bath bungalows up to five or six-bedroom mansions with over 5,000 square feet of living space.
The majority of the homes were built between 1950 through the current time. But most of the serious development began in the 1970s through the 1980s. Anna Maria homes typically have a lot of creature comforts and about three-quarters of the homes have private pools. Heated pools are popular despite the tropical climate.
One of the best things about the homes is that Anna Maria is a small island so you are never far from the beaches. Even homes in the "interior" are only a 5-minute or so walk to the beach.
Waterfront homes are plentiful with about half of the homes having some form of water view. Most of the waterfront homes are on canals and beachfront homes are relatively scarce. Two of the biggest waterfront subdivisions are Luna Isles and Bimini Bay which offer canal homes with docks and access to the Gulf and Anna Maria Sound.